Flick Statue
In the iconic scene from the holiday classic, "A Christmas Story," Flick gets his tongue stuck to a flagpole on a triple dog dare. This scene is now immortalized in a beautiful bronze statue outside the Indiana Welcome Center in Hammond.
The Flick statue was commissioned in January 2013 by the South Shore Convention and Visitors Authority to commemorate two special anniversaries: their 30th anniversary, as well as the 30th anniversary of the holiday classic "A Christmas Story."
ROTBLATT-AMRANY STUDIO
The statue was created by Oscar Leon, an artist with Timeless Creations - The Studio of Rotblatt-Amrany and in partnership with Warner Bros. Consumer Products. In addition to Flick, Rotblatt-Amrany's studio created numerous statues at the Community Veterans Memorial in Munster, the Orville Redenbacher statue in Valparaiso and statues of Michael Jordan, Frank Thomas and Harry Carey in Chicago.
Find out more about the local Rotblatt-Amrany creations here.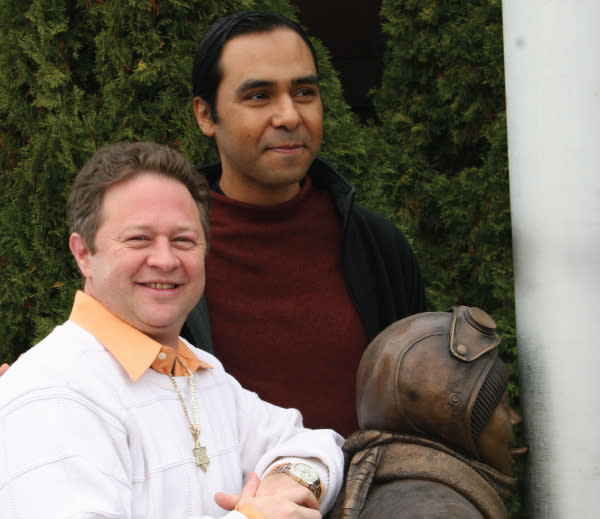 Photo: Oscar Leon, statue creator, and Scott Schwartz, the actor who played Flick in the movie.
STATUE UNVEILING
Leon and Scott Schwartz, the actor who played Flick in the movie, were both on hand when Speros A. Batistatos, president and CEO of the South Shore CVA, unveiled the statue. W.F. "Bill" Wellman, vice chairman of the South Shore CVA Board of Directors, assisted Batistatos with the unveiling. Wellman had suggested the statue at a South Shore CVA board meeting and made the first donation toward its funding.
"A CHRISTMAS STORY" COMES HOME EXHIBIT
The statue adds to the visitor experience during the annual "A Christmas Story" Comes Home exhibit, which features six animatronic displays. In addition to Flick, a new scene was created after surveying visitors and social media fans on which scene should be depicted next.
The Flick statue is permanently displayed just outside the front doors of the Indiana Welcome Center. We "triple dog dare" you to stop by and get your picture taken with Flick!
More on this annual exhibit: • Special Events • Photos with Santa • Hours and Location
---