Andrea Rivera
Art Director
219-301-7754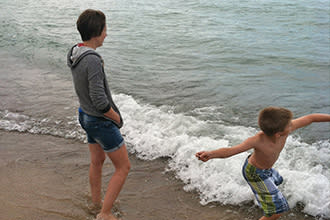 I began my career with the CVA as an intern in 2001. After graduating from Indiana University Northwest with a Bachelor of Fine Arts degree, I continued to progress in the graphic design field to my current position as Art Director.
I manage the complete visual brand of the CVA through all platforms including print, web and video, overseeing all phases of design and production. This encompasses creating visuals for all CVA departments, (sports and convention sales, marketing, partnership) creating collateral for exhibits in the Indiana Welcome Center, and outdoor signs and banners for special events such as the South Shore Air Show.
I enjoy the arts and have had the opportunity to come out from behind the computer to work hands-on in the "A Christmas Story" Comes Home annual exhibit by sketching, building and painting the scenes alongside our incredible maintenance department. In 2010, I also began curating an annual photography show each fall featuring local talent and local subjects. In 2012, forty-two photographers participated.
I currently reside in Munster with my husband and two sons. We enjoy spending our weekends outdoors enjoying each other and loving life!