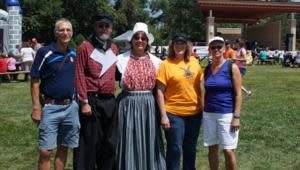 The 2014 Touch of Dutch festival has proven that small changes are capable of creating a big impact.

According to Diva Rish, executive director of the DeMotte Chamber of Commerce, festival planners worked on enhancing the Dutch atmosphere during this year's festival. Decorations using traditional Dutch wooden shoes were put up throughout the festival grounds, and vendors were asked to give some of their offerings a Dutch name. Yesteryear's, a vendor at the festival, brought in Dutch cheeses, such as leyden (Leidse kaas); candies, including Wilhelmina mints, King peppermints and black licorice; pastries, including stroopwafel, a waffle made from two thin layers of baked dough with a caramel-like syrup filling; as well as other Dutch items such as Holland Rusk Dutch tea biscuits, De Ruijter hagelslag (chocolate sprinkles), and Droste cocoa. Additionally, freshly baked Dutch pastries, such as banket, were picked up from deBoer Bakkerij in Holland, Michigan, and sold during the festival.

"I think from a spectator's point of view, we got a lot of really good feedback on the look of the festival," said Rish. The festival committee also increased the exposure of the event by advertising in new areas.

"We reached out to South Holland and Lansing, Illinois, and did radio advertising, which hasn't been done extensively before," explained Rish. In addition to the increased advertising, the South Shore Convention and Visitors Authority developed rack cards for the festival and placed them at the Indiana Welcome Center and at rest areas along Interstate 65.

Rish explained that prior to the festival, she received a call from a couple who had picked up one of the rack cards while traveling back to Ontario, Canada, from Nebraska.

"They called my office to get more information and asked if there was some place for them to stay Friday night to come to our festival on Saturday. I set them up at a local church, only blocks from Spencer Park. They came down to see the parade and take in the festival, too," said Rish. "That was very exciting; of course what we're trying to do is promote Jasper County and get people to stay in DeMotte. "

Rish estimates that the festival had between 6,000 and 7,000 attendees, a 20 percent to 40 percent increase in attendees from the estimated 5,000 attendees in 2013.

In addition to adding to the Dutch "flair," a drone was used during the event, capturing footage from above as the parade marched along its path. To see video footage from the drone, visit http://bit.ly/1ppSCNo.

Though this year's festival proved to be successful, Rish says there is still more that can be done to add to the annual event.

"We still need to figure out how to breathe more Dutch into it. We will continue to find different things to try and figure out how to bring more Dutch to it each year," said Rish. "I want it to say Dutch all over."

For more information on the DeMotte Chamber of Commerce and the Touch of Dutch festival, contact Rish at 219-405-6840 or email info@demottechamber.org. For more information on the South Shore Convention and Visitors Authority, visit www.southshorecva.com.

PHOTO CUTLINES:
Executive Director of the DeMotte Chamber of Commerce, Diva Rish (second from right), stands with international travelers Peter Stam (far left) and Edie Stam (far right). The Stams attended the 2014 Touch of Dutch festival, and contributed to the 20 percent to 40 percent overall attendance increase.