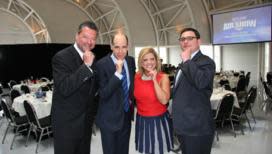 Nearly 200 business leaders gathered at the Indiana Welcome Center on Wednesday, May 7, for the South Shore Convention and Visitors Authority's annual Tourism Luncheon.

During a State of Tourism address by South Shore CVA President and CEO Speros A. Batistatos, "How tourism benefits a community" was named the theme for 2014.

Batistatos explained that travel and tourism is a $2.1 trillion industry in the United States, and supports 14.9 million jobs.

"The tourism and hospitality industry in the US is larger than the automotive manufacturing industry," stated Batistatos.

According to Batistatos, the South Shore is a melting pot of restaurants and offerings enjoyed by both visitors and residents. Whether visitors have come to explore South Shore restaurants and attractions, or are staying in a hotel for a meeting, conference or sporting event, the benefits of tourism trickle down into the communities.

"While meeting or conference attendees are staying in a hotel, they look for nightlife, from comedy clubs and lounges to the best casinos," said Batistatos.

Batistatos said that while visiting a casino, visitors enjoy exciting gaming, fine dining and nationally known live entertainment.

"Taxes from the gaming industry help enhance the local community, with funding for parks, roads and other improvements," he said.

Batistatos informed attendees that many sporting events and conventions are planned throughout the summer, including Salvation Army, Premier Fastpitch Softball and Leon's Triathlon in June and the National Softball Association Past Pitch "B" World Series, the Hot Rod Power Tour and Ohio Valley Baseball in July. Batistatos said that sporting events have become a pillar in the community, filling hotels, sports fields, attractions and restaurants during events.

"When sporting events, meetings and conventions are booked along the South Shore, attendees are visiting places built by local union labor, which purchased steel and other materials created in the region," explained Batistatos.

"Each of us is part of the $1.6 billion industry, which employs more than 15,000 people in Lake County alone," said Batistatos. "Whether you're a front-line customer representative or the GM of the largest hotel in the region, that number means something. It is because of our partnerships with all of you that we are able to make such great economic impacts on the communities of the South Shore."

To learn how tourism benefits a community, visit http://bit.ly/RoDrVE to watch a series of short videos. For more information on the South Shore CVA, partnership opportunities or how to bring a meeting or event home, contact the South Shore CVA at 219-989-7770.