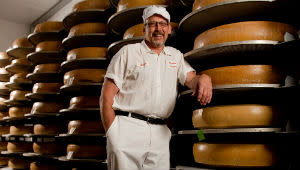 Fair Oaks Farms Master Cheesemaker Bruce Workman's Muenster and Sweet Swiss took home honors at the 2014 American Cheese Society Judging and Competition held in Sacramento, Calif. on Aug. 1, 2014.

Fair Oaks Farms Muenster and Sweet Swiss each won best of show honors at the competition.

"Fair Oaks Farms is committed to offering unparalleled quality in all of its products," said Julie Basich, Fair Oaks Farms General Manager, "We are proud that Bruce's efforts and Fair Oaks Farms Fine Cheeses have earned championship recognition."

The 2014 ACS Judging and Competition saw 1,685 entries of cheeses and cultured dairy products from 248 companies. Entering companies represented 39 U.S. states, 4 Canadian provinces, and Colombia.

Fair Oaks Farms product information is available at www.fofarms.com or at shop.fofarms.com or by calling 877-536-1194.