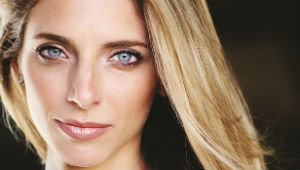 Singing a song near and dear to the hearts of Americans, Janine Stange, also known as National Anthem Girl, will be making a stop at the South Shore Air Show to cross Indiana off her list.
Stange's goal of singing "The Star-Spangled Banner" in all 50 states by the song's 200th anniversary on September 14, 2014, interested South Shore Air Show planners.
"Air shows are traditionally held to aid military recruiting efforts," stated Speros A. Batistatos, president and CEO of the South Shore CVA. "With the additions of military displays and military demonstration teams, the South Shore Air Show is a great event showcasing patriotism and support for our military."
Stange's rendition of the national anthem will kick off the Friday night Twilight Show on Friday, July 11. In addition to her performance, Stange will be setting up a table to offer air show attendees the opportunity to fill out blank thank you cards to express gratitude for our military to be included in care packages assembled by Operation Gratitude, a nonprofit organization that sends more than 150,000 care packages annually to veterans, first responders, wounded warriors, caregivers and to individually named U.S. service members deployed overseas.
The South Shore Air Show will be presented at Fair Oaks Farms, a 33,000 acre attraction in Newton County, July 11 through July 13. In addition to Stange's performance and military displays, air show attendees will enjoy breathtaking aerial acrobatics, Fair Oaks Farms attractions, a beer garden and food and novelty vendors.
To learn more about Janine Stange and her journey to perform "The Star-Spangled Banner" in all 50 states, visit www.nationalanthemgirl.org. To watch a video of Stange performing "The Star-Spangled Banner," visit http://bit.ly/1ouOj27. For more information on the South Shore Air Show, visit www.southshoreairshow.com.