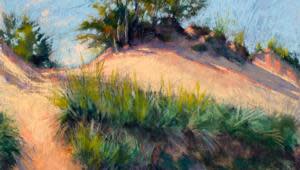 Paint the Parks, a traveling exhibit that highlights United States' national parks through art, will remain on display at the Indiana Welcome Center through Monday, Sept. 29.
According to Rod Seel, executive director of the Coutts Museum of Art in El Dorado, Kan., the exhibit originally began in 1985 as an annual competition to select the best artistic renderings of landscapes, wildlife and history of the United States' nearly 400 national parks, seashores, monuments and historic sites.
The exhibit features approximately 100 paintings representing 75 different artists from around the country. Paintings from artists in both Illinois and Indiana will be showcased, as well as several pieces depicting the Indiana Dunes.
Paint the Parks has previously been showcased at national parks such as the Grand Canyon, and in museums, galleries and exhibit venues from St. George, Utah, to West Palm Beach, Fla. This year marks the exhibit's third appearance at the Indiana Welcome Center.
The Indiana Welcome Center is open seven days a week from 8:00 a.m. to 5:00 p.m. and is located at 7770 Corinne Drive in Hammond, Ind. For more information on the exhibit or the Indiana Welcome Center, call 219-989-7979 or visit www.AlongtheSouthShore.com.
PHOTO CUTLINE:
Steven Nass submitted the grand prize winning piece for the 7th annual Paint the Parks competition. Nass' piece, "September," depicts Grand Teton National Park.