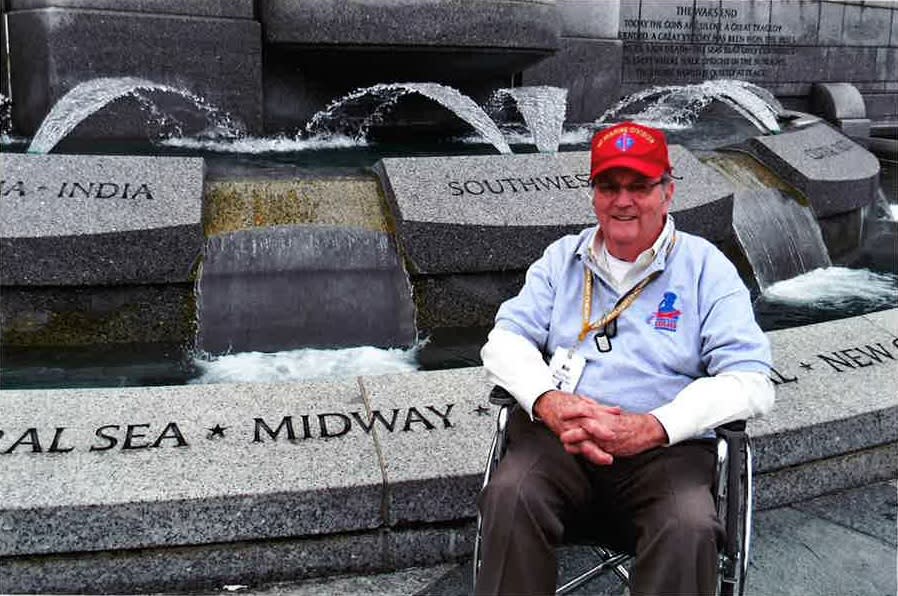 The day of W.F. "Bill" Wellman's Honor Flight was a long day full of surprises.

Wellman, a World War II veteran who served with the United States Marine Corps, participated in the Honor Flight, offered by Honor Flight Chicago, in late October 2013. Leaving from Midway Airport in Chicago, Wellman and close to 90 other WWII veterans traveled to our nation's capital to see monuments and memorials.

According to Wellman, the application process for Honor Flight Chicago took about two months. Wellman, who had already been to Washington, decided to apply for the trip when he learned his close friend Ray Cohen, an Army veteran from Valparaiso, was interested in participating.

"I wasn't exactly sure what was going to happen all the time," explained Wellman when recalling the day of the Honor Flight. "We had to be to the airport by 4:30 a.m. We got home about 1:30 a.m."

Honor Flight Chicago took the veterans to monuments and memorials in Washington D.C. including the World War II Memorial, Korean War Veterans Memorial, and the Vietnam Veterans Memorial. While in Washington D.C., the veterans were taken care of by their host and Honor Flight Chicago volunteers.

"It was a great day. I couldn't buy an ice cream bar. Everything was paid for by the host, who would be reimbursed by Honor Flight," said Wellman.

Even on the flight home, Honor Flight Chicago ensured the veterans' day was an unforgettable experience.

"When we came home, the surprises started getting bigger and bigger," said Wellman. "Halfway through the flight, they started yelling 'mail call, mail call.'"

Each veteran received a personalized envelope containing letters from their families, or even the mayor of Chicago, thanking them for their service.

Awaiting their arrival at Midway Airport, enough uniformed sailors for each veteran came down from Great Lakes Naval Academy to push the veterans' wheelchairs through the airport.

"You could hear the commotion in the airport," recalled Wellman. "Bands were playing and you're shaking hands from both sides because that's how narrow the river of people was."

In addition to the three different bands, the veterans were met with an outpour of cheers by their families and friends.

"It was probably one of the best days of my life, and I've had some good days," said Wellman.

Honor Flight Chicago, a chapter of Honor Flight Network, was founded to recognize Chicagoland's World War II veterans by flying them on an all-expenses-paid trip to Washington D.C. While at the United States' capital, veterans visit memorials dedicated to honor their services and sacrifices.

The program will transition to veterans of the Korean War and Vietnam War as all World War II veterans who are willing and able to participate have received an Honor Flight.

For more information on Honor Flight Chicago, visit http://www.honorflightchicago.org/.