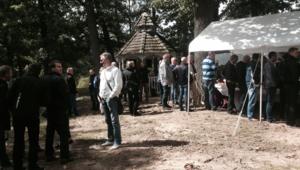 Waterbird Banquet Center in Chesterton, Ind., was host to Subaru dealership owners and employees from Finland, Denmark, Lithuania, Latvia, Estonia and Sweden on Saturday, Sept. 13.
The 107-person group was in the United States on a business trip, arriving earlier in the week to tour the Subaru plant in Lafayette. For many, this was their first trip to America.
The visitors got the chance to see some of Northwest Indiana as they drove approximately 40 brand-new Subaru vehicles from Lafayette to Chesterton on Saturday morning. Many of the guests were surprised at the amount of cornfields and wind turbines, as well as the flatness of the land.
Erik Sandblom, CEO of the Visbil Subaru dealership in Visby on Gotland, Sweden, said that the people of Northwest Indiana were genuinely friendly and made the group feel very welcome. This sentiment was echoed by many of the guests.
Brian Chubb, general manager of Waterbird Banquet Center, extended Hoosier hospitality to the group, serving them an all-American barbecue, which included American favorites such as grilled hamburgers, hot dogs and chicken breasts, as well as numerous salads and side dishes. The European visitors enjoyed lunch on the property's island, surrounded by Chubb Lake, before heading to Chicago for an evening at House of Blues.
PHOTO CUTLINE:
Waterbird gathering: European Subaru dealership owners and employees gathered at Waterbird Banquet Center for an All-American Barbecue.