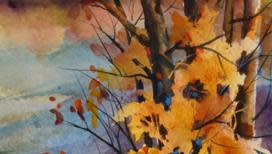 White Ripple Gallery & Co. will be hosting a grand opening celebration on Saturday, Oct. 11, from 7:00 p.m. to 10:00 p.m. The grand opening will feature two new exhibits, live entertainment and more.
The headlining show is titled Salute: An Homage to the Godfathers of Art. The show is curated by Ruth Crnkovich, an internationally recognized art appraiser and curator who was influential in the growth and success of both the South Shore Arts Center in Munster, Ind., and the Zhou B Arts Center in Chicago.
Crnkovich will be featuring art by the best-known artists from the Northwest Indiana area, showcasing the talent and richness of the South Shore. The artists being showcased include Sergio Gomez, the driving force behind the Zhou B Arts Center and owner of 33 Contemporary Gallery in Chicago; Neil Goodman, professor of Fine Art at Indiana University Northwest and founding member of the department; Gregg Hertzlieb, museum director and curator of the Brauer Museum of Art at Valparaiso University; and Richard Brauer, for whom the Brauer Museum of Art was named.
"We wanted to celebrate the region's shining stars and we believe Crnkovich, Goodman, Hertzlieb, Gomez and Brauer are a dream team that truly helped shape the art scene along the South Shore, from Indiana to Illinois and beyond," said Jocelyn Prue, owner and director of White Ripple Gallery & Co.
Supplementing this, Prue has curated a show that is an official exhibit for Notre Dame University's year-long Indigenous World program. The show, Indigenous Landscapes: Imprints of the South Shore, will feature regional artists showcasing pieces depicting landscapes such as the Indiana Dunes, Gibson Woods and the wetlands at Oxbow Park. There will also be a modern dance performance by the students of The Dance Connection, pop-up galleries by Kathy Los-Rathburn, Liz Mares and Union Street Gallery in Chicago Heights, live music and refreshments.
White Ripple Gallery & Co. is located at 6725 Kennedy Avenue in Hammond, Ind., and is open Monday through Friday from 11:00 a.m. to 5:00 p.m. Additionally, White Ripple hosts events every second Saturday of the month from 7:00 p.m. to 10:00 p.m.
White Ripple Gallery & Co. is the flagship business in a burgeoning art-focused commercial center with 18,000 square feet of space being developed into a thriving art community. White Ripple Gallery has also opened a satellite venue in the gift shop at Taltree Arboretum & Gardens that is open during normal business hours.
The gallery's grand opening event will be preceded by a ribbon-cutting ceremony on Friday, Oct. 10, from 4:00 p.m. to 7:00 p.m. Both events are open to the public and free to attend. For more information, visit www.whiteripple.comor call 219-433-4072.
Photo Cutline: Indigenous Landscapes - Kathy Los-Rathburn Gibson Woods/Neil Goodman