Spring is here -  it's time to get the kids outside and find some fun things to do in the South Shore. Plus, today you can grab a Groupon for Zig-E's Funland in St. John and get up to 55% off!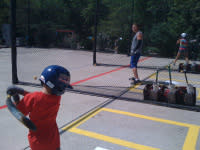 Last fall my kids and I decided to spend an afternoon at Zig-E's Funland and we had a blast! There are plenty of activities to keep the kids busy all afternoon for almost any age.
The bungee trampoline was my daughter's favorite attraction. You're strapped into a seat attached to bungee cords and jump as high as you can on a trampoline or spin in somersaults. My daughter wasn't quite big enough at five years old to do the somersaults, but the staff helped to give her a little extra bounce.
Though my son is only seven with limited experience with the batting cages, he rates Zig-E's Funland cages as his favorite. They have a good variety of speeds and he found one that pitched at a perfect height for him.
The mini golf course was my favorite. For their first game of mini-golf ever, I gave the kids a little slack with their scores. Zig-E's has a pretty challenging course with colorful structures to try to maneuver your ball around.
We didn't have enough time to do everything. Their arcade has more than 50 video and redemption games and the kids only had a chance to play a handful of them. Next time on our list, we definitely need to ride some go-karts at their Rippin Raceway!
Overall, the landscaping and layout of Zig-E's is very clean and well-kept. They have picnic tables to sit at outside in the sun or shade, and enjoy some food from their snack shop with pizza, hot dogs, nachos, slushies and more to choose from. Zig-E's is a great place to entertain the kids for a few hours plus have a little fun yourself.