A long, long time ago in my fourth grade class at Franklin Elementary in Robertsdale, I remember our teacher instructing us on how to participate in a coloring contest. The contest was to help with the design of a new Shore South poster for Whiting that showcased the library. Though I didn't win, whenever I see that specific poster I'm brought right back to that classroom, sitting among friends and coloring.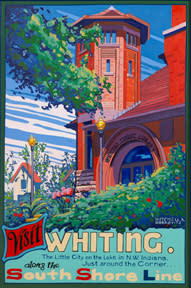 The first time I came to the Indiana Welcome Center's upstairs offices for my interview, I couldn't help but want to stop and look at all the pictures hanging along the walls. They were colorful, insightful and just really neat.
The majority of the pictures found in the South Shore Convention and Visitors Authority's offices are from the South Shore Line poster series. This poster series was developed as a marketing campaign back in the 1920s to boost ridership of the South Shore train. The posters were to showcase the many beautiful attractions found in Northwest Indiana that riders could visit by taking the train line.
The posters range from depictions of industry and our universities, to those that showcase our beautiful dunes. They show history and pride in the region. They show tradition, and most of all, they are quite unique to the South Shore.
For these reasons, and many others, the South Shore CVA decided to use this poster series as the prime inspiration when designing the new website. The bold, saturated colors were drawn upon when developing a theme and the openness offers viewers a clean, user-friendly format.
In addition to using the poster series as the main inspiration, the posters have been placed throughout the website when they are corresponding with more current photographs. On the home page of the site, the header plays between four different images, but once you open the hidden pop-up, the poster that best matches the photograph appears.
The theme to the website truly pays homage to this series. It gives the residents of the South Shore something to be proud of while they use the site, but also showcases our history and tradition to our visitors.
Contributing Editor: Stacina Stagner
Former communications coordinator with the South Shore CVA.