Just 3 miles off of Route 30 in Hobart is a little known tourist stop - Broken Wagon Bison. I had my first trip there yesterday, and in a very short time talking with one of the owners, Wally Koeppen, I learned a lot of information.
The farm has about 80 bison and they hope to have more than a hundred soon. Wally walked me over to the fencing where they have a group of younger bison. The ones that are a year old are already about 400lbs. One came over when Wally neared the fence and licked our hands. The owner said the bison are normally a little wary of people, but you never know if they will run at or away from you, so you definitely wouldn't want to walk in the middle of the field with them.
I plan to head back in the summer when they have tours on Saturdays for $10 a person at 11am and 2pm. They show a short movie in their store and then talk a bit about the history of the bison and the Indians' relationship with the bison. They also show samples of the hair they shed and products made from this - including an extremely warm winter hat Wally showed me that retails for around $90! They then take the group out on a wagon through the field of bison. Group tours of 20 people or more are welcome anytime throughout the year; just call them ahead of time to schedule.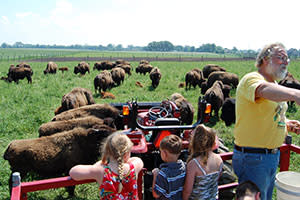 Their store carries many kinds of bison related items. They have purses crafted by Wally's sister-in-law, made of leather from bison hides. There are bison skulls and other objects painted by a local artist, handmade jewelry, hides and other bison-related items.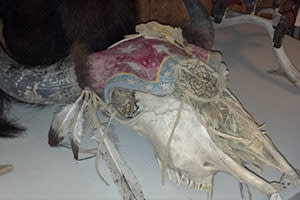 They also sell bison meat which is a healthier option than beef - bison only has 2.42g of fat per 3.5oz serving and 143 calories. It is more expensive than beef (almost $10 per pound for ground bison), but it also has more iron, vitamin B-12 and lower cholesterol. The farm even supplies bison to a few different restaurants in the area.  
The store is open Monday through Saturday from 8am to 5pm and on Sundays 2pm to 5pm. It's never a bad idea to call ahead to make sure they are in the store, as a working farm may have staff out in the field.
I picked up a pound of the ground bison while I was there and made some burgers - my family loved them!  


Broken Wagon Bison
563 West 450 North
Hobart, IN 46342
Phone: (219) 759-3523
brokenwagonbison.com


Have you seen bison up close and personal before?