I really enjoy visiting with the guys from the Duneland Woodcarvers Club and seeing their latest works of art. They come to the Indiana Welcome Center every Thursday morning to whittle, display their latest pieces and talk with visitors.
This past weekend, the Duneland Woodcarvers Club held a two-day show at Woodland Park's Oakwood Grand Hall in Portage. I was excited to see the works of these talented artists, so I headed up to the show Saturday morning.
I was pleasantly surprised to see a steady stream of people entering the building, since this was one of the first really nice Saturdays of the season. When I got inside, I understood why so many people were taking the time to visit this show.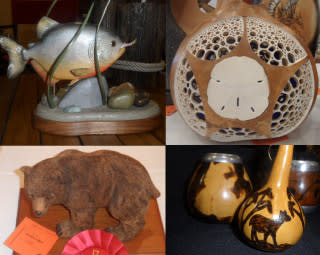 The hall was filled with tables loaded with all sorts of wood items, everything from unfinished chunks of wood to beautifully finished carvings. I spotted one of my Thursday buddies right off the bat and was greeted warmly by him. He pointed out where the rest of the guys were sitting and off I went.
My first stop was at Thursday regular Ron Muskina's table. Ron does beautiful Native American inspired carvings out of tree branches. He also had walking sticks with carved handles, which I had never seen before.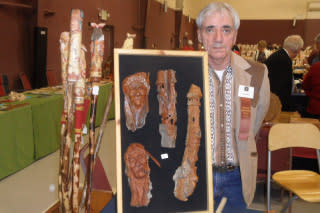 As I strolled around the hall, I was amazed to find such variety among the exhibitors. Not only were there wood items, but there were dried gourds that had been carved, painted or burned. My favorite was a huge gourd that had fall leaves carved on it and was skillfully painted. I was impressed with the artist – one of a handful of female carvers at the show.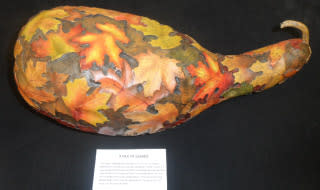 The age range of the artists surprised me a bit. I wasn't expecting to see such young people exhibiting their art and passionately sharing their craft with visitors. It pleased me that this craft continues to be carried on by a new generation.
One of the young artists that fascinated me was Chris Boswell. He was hollowing out a bowl as we spoke, and I was impressed at his ability to keep from chopping his fingers off. Chris had a great selection of hand-carved wooden spoons and bowls, among other things.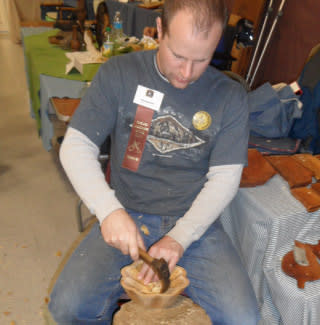 I also had the opportunity to meet Joe Calderone. He was sitting in front of a chess set that he had made. The incredibly detailed chess pieces were cowboys and Indians and the board was beautifully inlaid with light and dark wood. Joe mentioned that he is part of the group that comes to the Indiana Welcome Center, but that he hasn't been able to make it lately.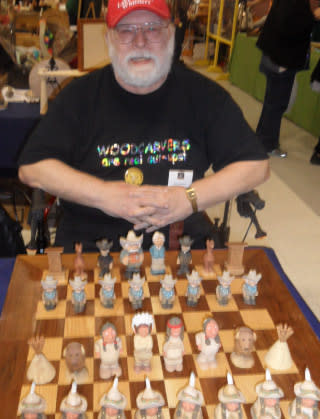 Joe told me that Clarence, one of my Thursday friends who is carving a special piece for me, was upstairs doing a demonstration. By the time I got up there, he had concluded his demonstration, but what I saw instead blew me away. There were tables and tables of juried artwork. I had no idea the extent of the judging that had occurred as part of this show. One volunteer told me that there were over forty juried categories. There were numerous blue and red ribbons on the stunning pieces of artwork, each entry seemingly more fascinating than the next.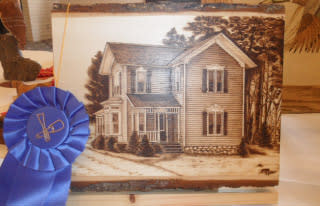 As I strolled by each table, I was amazed by the talent of the Duneland Woodcarvers Club. If you get the chance, I highly recommend stopping by the Indiana Welcome Center on a Thursday morning to check these guys out.
Contributing Editor: Amy Van Soest
Former communications coordinator with the South Shore CVA.