The sun has been shining bright the past couple days, creating an unavoidable need to be outdoors. If you've been finding yourself with similar feelings, be sure to check out the many great things to do and upcoming events at the Indiana Dunes!
View shelf ice
Winter's freezing temperatures help create one of the dunes' most breathtaking sights – shelf ice. Shelf ice is a natural occurrence that mimics the landscape of arctic regions. The shelf ice is not attached to the bottom of Lake Michigan, but rather attaches itself to the sandy shores of Indiana Dunes beaches, creating a shelf.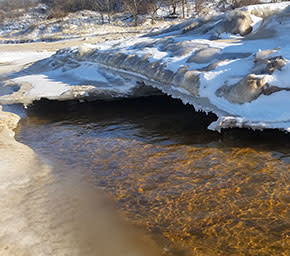 There are many places at the Indiana Dunes National Park to see these beautiful formations, such as West Beach's Dune Succession trail as well as the bath house. Head over to Portage Lakefront and Riverwalk or Lake View in Beverly Shores to view shelf ice. Click here for more information on Lake Michigan shelf ice.
Learn about snowshoeing
Visitors are invited to join a ranger at the Indiana Dunes National Park's visitor center for a brief indoor program on winter and the use of snowshoes, and will be able to take a short walk through the fields and woods around the center in a pair of snowshoes. The two-hour program will be offered at 9:30 a.m. and 1 p.m. on Saturdays Jan. 24, Feb. 7 and 14. For more information, call 219-395-1882
Indiana Dunes State Park will also be offering the snowshoe program, Snowshoe Shuffle, on Sunday, Jan. 25 and Saturday, Jan. 31. Attendees will join a park interpreter in the Nature Center for an introduction to this unique mode of winter transportation before heading out for a short walk in snowshoes, weather permitting. Call 219-926-1390 for more information.
Take a crash course on bird watching
Dunes State Park Interpreter Brad Bumgardner will present a three-hour introduction to all things birding. Attendees will learn about the history of ornithology, the study of birds; common dune birds; bird banding; leading a bird walk and more.
The workshop will begin at 2 p.m. on Saturday, Jan. 31 in the Nature Center auditorium, 1600 N. 25 E. in Chesterton. Registration is required and costs $10. Call 219-926-1390 to sign up.
How many more weeks until spring?
The Indiana Dunes National Park will be presenting a special puppet show in honor of Groundhog Day during and open house at the Paul H. Douglas Center, 100 North Lake Street in Gary, on Saturday, Jan. 3. Show times are at 1 p.m. and 2:30 p.m. In addition to the puppet shows, the open house will feature hands-on activities and crafts, exhibits and a live animal room. For more information, call 219-395-1821.
Contributing Editor: Stacina Stagner
Former communications coordinator with the South Shore CVA.