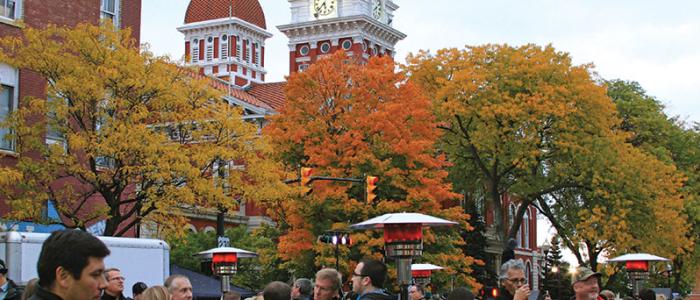 They say festival season is gone like Rhett Butler - with the wind. But I'm here to tell you a little secret... it doesn't really go anywhere.
Everyone knows that summer along the South Shore is jam-packed full of festivals and events to keep the whole family entertained, but what happens when autumn is upon us and the season starts to change into winter? Before I moved to the region, a crisp fall breeze and the changing of the leaves on the trees meant it was time to retreat into the house for months on end. By the time winter was over, I'd be pulling out my hair because I was going stir crazy. But here in Northwest Indiana, we're lucky that the fun and festivals don't end as soon as we hear the famous Game of Thrones catchphrase that "winter is coming".
October has been a perfect example of this, as every weekend there has been something fun and interesting to do. I kicked off the fall season with Cowtoberfest at Fair Oaks Farms. Cowtoberfest was an event that had something for everyone. The kids brought out their "ghoulest" costumes and got in some early trick-or-treating. They had a ton of great activities for kids, including a hay maze and pumpkin carving. Speaking of slicing and dicing jack-o'-lanterns... Jon Neill, who you've probably seen on Food Network's Halloween Wars the past two seasons, was on hand to carve an 800 pound (yes, you read that right, 800 pound!) pumpkin into a monstrosity of epic proportions.
My girlfriend and I are avid viewers of Food Network's Halloween Wars every year, so to see Jon Neill's craftsmanship up close and personal was a sight to behold. But Neill wasn't the only entertainment on hand for adults, as Indiana's own country music star Corey Cox was there, making sure that the festivities were rocking all night. And there was a cavalcade of local vendors to browse as well, serving everything from freshly made apple donuts to arts and crafts. I ended up buying a bottle of The Divine Chef's hand crafted olive oil to take home and enjoy on a chilly evening.
And then there was the first, but hopefully annual, Munster Ale Fest, which took place in beautiful Centennial Park. If you're a fan of fall foliage like me, you just have to see the trees at Centennial Park this season, as the leaves turn a dozen different shades of beautiful. Of course if you're at an ale fest, you've got to sample some of the incredible craft brews. There were a multitude of local brewers like Crown Brewing, Devil's Trumpet and even Shady Creek Winery on hand to keep spirits high. Lots of specialty beers were created for the season, including pumpkin spice and apple cinnamon ale. There was also great music and local food trucks to keep the atmosphere festive.
Finally, I had the pleasure of going to Crown Point's Oktoberfest. Crown Point knows how to party and even the rain couldn't stop this festival from happening. After a brief postponement, things got cooking, literally, with an incredible chili cook-off! Nothing beats some warm chili on a cold fall day, and these award winners not only won the coveted wooden spoon award but also my own personal seal of approval. As a bit of a chili connoisseur, I've got to say the Crown Point Oktoberfest had some spicy good tastes. Certainly the chili was fantastic, but they also had unique treats like chicken chorizo pierogies. Now that's what I call a cultural explosion of flavor that can be only found in Northwest Indiana!
When it's all said and done, autumn may bring shorter days, gusts of wind and plenty of raking, but it doesn't mean the festival season is over. The region is blessed with so many things to do, even when the weather isn't sunny and hot. The best part is, as fall turns to winter, there's still fun things to do with even more events like "A Christmas Story" Comes Home to keep you entertained through the rest of this year and into the next! Before you know it, summer will be around the corner and everyone will say that "festival season" is beginning, but those of us along the South Shore know, it never really ended!
Contributing Editor: Jake Giles
Former Video Production Associate with the South Shore CVA.