I wish I could say I was a born and raised Hoosier, but truth be told I was born in Illinois and moved here just before kindergarten. However, that means I've lived in Indiana, and more importantly The Region, for almost 20 years. Though more than half of that time I didn't have a car and spent most of my days in school, doing homework and working, I was able to experience some of the fun and unique things the area offers.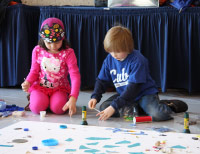 I thought I was a pretty well-informed community member and knew all the fun stuff to do here, but it wasn't until I started working at the South Shore CVA that I quickly realized there is so much more to do and see along the South Shore. Everyday I'm learning of a new festival, theater, or events. Plus restaurants and attractions are always popping up. For this reason, the South Shore CVA hosts an event twice a year dedicated to showcasing a lot of the great attractions and events in The Region.
Inside the Indiana Welcome Center will be a very neat event on Saturday, January 26 called Explore the South Shore: Arts & Culture. This event will feature about 14 different organizations that focus on the arts and culture in Northwest Indiana. Some of the organizations include Indiana Ballet Theatre; Books, Brushes and Bands; and Theatre at the Center.
In addition to having informational booths set up in the exhibit hall, organizations will also be offering activities, films and performances throughout the day.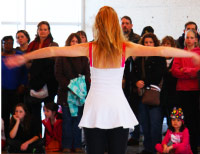 Combine all of the activities and performances with a money-saving passport full of coupons and a neat Explore the South Shore bag for kids, this event will be both fun and very informative. No more worrying about winter months' boredom.
Come check out the event tomorrow, January 26, 2013 from 11am to 3pm, and be sure to watch for the next Explore the South Shore scheduled for May 11, 2013.
Contributing Editor: Stacina Stagner
Former communications coordinator with the South Shore CVA.