Word on the street is that you and the gang are headed over to that speakeasy on Wabash in Chicago for dinner, some drinks and a little song and dance. It sounds like somebody finally talked some sense into you! Let me just tell you that you're in for a real treat when you visit Tommy Gun's Garage, but you have got to be cool when you arrive. It's not all picking daisies. You've got to know the rules of the game if you're trying to play. Prohibition is still very much alive in this garage. There are some bona fide gangsters in those walls and if you follow my tricks of the trade, you'll have no problems taking a trip back to the Roaring 20s. Here are those five speakeasy secrets for your visit to Tommy Gun's Garage.
1) What's the password?
Yeah, that's right! You have got to know the password to get into the joint. This isn't a parking garage and no regular Joe-schmo can waltz into the place to fill their gullet with illegal spirits. Remember, you're trying to get into a speakeasy that's still in the 1920s. You want to see the best dinner show of your life, right? You better pay attention right now because I'm telling you the password you'll need to say in order to avoid getting riddled with mobster bullets.
"What's the password?" they'll ask at the front door.
"Little Jake sent me," is all that you need to say. Voila! You'll now be able to get inside for the best musical comedy revue you'll ever see. The dinner will knock your socks off, too.
So you've made it through the door and you've found yourself a nice place to rest those howling dogs of yours. That's great. You're going to be approached by some folks in real fancy dress that'll ask you, "What'll it be?"
Give them your order and try not to be a wise guy. Those servers bringing you delicious prime rib and martinis aren't just servers. What do I mean by that? You're there to see a comedy musical, right? Those fine people serving you like royalty are your performers.
That's right. Aside from serving you your fill, they'll also be serving up your entertainment. They'll ask you questions and you better answer. These flappers and gangsters are real sweethearts when you get to know them. The nicer you are to them, the nicer they are to you. It's a simple science. I'm telling you this so you aren't surprised when Foxy Roxie blows your hair back as she belts a tune on stage. Isn't it nice to be treated so well by the entertainment?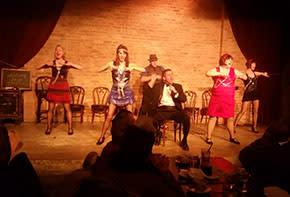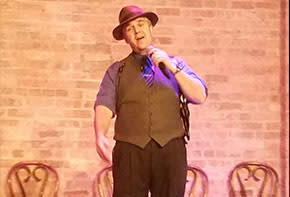 3) You aren't there just to dine
You read that right. While you might think your serving staff is providing all the entertainment, they'll also be using their lovely guests as a sort of inspiration. Each show pulls members of the audience on stage for their own time to shine. Remember when I told you to be nice to your servers? They're the ones who are making the tough choice. What I told you was wise counsel.
This is an interactive show that uses the whole garage. Everything and everyone in the garage is subject to be the entertainment. Who knows? Maybe the reason you're pulled up on stage is because you're the reincarnation of some figure from the Roaring 20s. What an honor to have your past life recognized!
You can be sure that you'll be dancing or acting when you head up on stage. When in doubt, just go with it. The star of the show, often enough, is the member of the audience who shines brightest when they get on stage. You can increase your chances of being pulled up by being a Chatty Cathy to your servers. Gangsters enjoy a little banter now and then.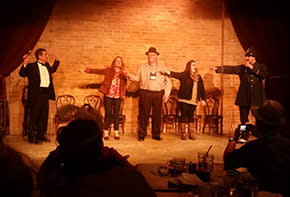 4) You are NOT at a speakeasy
I might have given away my hand numerous times in the previous passages, but let me just say that when the cops show up, you are not at a speakeasy. No, you are at a house of the Lord praising, singing and testifying the truth and only the truth. What's that you say about spirits? The only one you know is the holy one. Think the cops won't show? You're in for quite the surprise.
5) There are no cellphones in the Roaring 20s
Didn't you already know that? Tommy Gun's Garage is a time machine and your performers don't take kindly to those contraptions in your hand. Do yourself a favor and enjoy the show for which you paid. Gangsters and flappers don't understand what a "smart phone" is and you're likely to draw attention to yourself by living through a screen. Remember when I mentioned you aren't just there to dine? A nice way to ensure you get even more than your meal is to be distracted on your cellphone during the show.
Don't be surprised if a remark comes your way! Sure, take a photo every now and then if you need one. As a rule of thumb, go to Tommy Gun's Garage for the experience. The surest way to lose track of that is by being on technology that doesn't exist yet!


---

I hope these tips help. Use them wisely upon your visit to their little soiree. You're going to be glad that "Little Jake sent me." That I can guarantee! There's more that I can say, but would you really want me to ruin the show for you? No, you wouldn't want that. It's time to go for yourself!
Tommy Gun's Garage offers shows Wednesdays through Sundays at various times. For information on show times and pricing per plate, be sure to visit tommygunsgarage.com/pricing.htm or call 312-225-0273.