Final preparations are being made for another busy beach season at Indiana Dunes National Park. Each year over 3 million people visit the 17 miles of Lake Michigan shoreline along the national park and nearby Indiana Dunes State Park. In the national park, beaches range from the life-guarded West Beach, with its bath house and 500-car parking lot to smaller, unguarded beach areas like Dunbar and Central Avenue that have limited parking and facilities.  
Food Vendors
This summer will offer more opportunities for food and fun at national park beaches. Food vendors will operate at the park's West Beach, Portage Lakefront, and Porter Beach. Kona Ice and a variety of other menu items will be available 7 days a week from 11 a.m. – 6 p.m. in the West Beach bath house. In addition, an Eastern National outlet in the bath house will sell souvenirs and fun educational items during the afternoon and early evening on Thursdays through Mondays. At Portage Lakefront, Twisted Citrus will offer a varied and original menu in the Lakefront Pavilion on Thursday through Sunday from 10 am – 6 pm. Porter Beach will feature food and ice cream treats from the Hot Diggity Dawg cart on Friday through Monday afternoons during the beach season.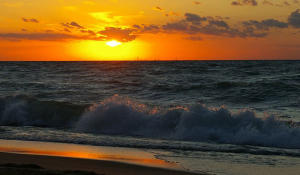 Beach Fun Saturdays
More than 300 free, ranger-led programs and other activities can add some fun to a beach visit. Highlights include the weekly "Beach Fun Saturday." Join park staff at West Beach on Saturday afternoons this summer at 1:00 p.m. to try out kayaks and paddleboards in Lake Michigan. Just before sunset, gather around a beach campfire to enjoy park stories while toasting marshmallows. There is a $6 fee per car at West Beach during the summer. Find more Indiana Dunes events here.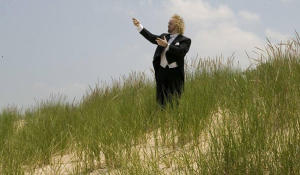 Symphony Concert at the Dunes
The Northwest Indiana Symphony Orchestra will return to West Beach for a concert under the stars on Friday, August 3, 2018 at 7:30 pm. Bring your own chair and get there early for this popular event. Food trucks and park partner booths will be there for your enjoyment before and during the concert.
Safety and Improvements at Indiana Dunes
Be aware that many park beaches have eroded due to near record high lake levels. The condition effects all of Lake Michigan, but expect to find narrower than average beaches at Portage Lakefront, Central Avenue and Mount Baldy due to nearby harbor structures that impede sand flow along the shoreline.
Improvements are planned at Central Avenue Beach where the bathrooms will be remodeled and upgraded. The beach will remain open and temporary facilities provided during the remodeling work.
Don't ruin your day at the beach with tragedy. Keep yourself safe by learning about the inherent dangers of Lake Michigan. Know when it's not safe to go into the lake. Large waves are dangerous and can be accompanied by potentially deadly rip currents that can sweep even the strongest swimmer out into the lake. Even when the lake is calm, don't let children or non-swimmers get into the water without close supervision by adults who are competent swimmers. There can be unexpected deep spots near sand bars and in other waters that may appear shallow. Understanding Lake Michigan will make your trip to the beach a safe one.
Learn More
For more information about beaches, programs, and beach safety at Indiana Dunes National Park, call the visitor center information desk at 219-395-1882, visit the park website at www.nps.gov/indu, or check out Facebook at www.facebook.com/IndianaDunesNL.
Indiana Dunes National Park is part of the National Park Service. More than 20,000 National Park Service employees care for America's 417 national parks and work with communities across the nation to help preserve local history and create close-to-home recreational opportunities. Learn more at www.nps.gov.