Crown Brewing is a hidden gem in the region that brews up hearty craft beers year round. Ales, stouts, porters, and lagers are conjured by brewmaster Steven and served to customers every day. I stopped into Crown Brewing on a Thursday for a tour with the brewmaster and to sample the beer and food offered at the brewery. Let me just say it was the perfect way to start my day.
Brewmaster Steven is a man who knows how to brew. He was kind enough to walk me through his office showing me the ins and outs of the brewery. Everything from brewing tanks, fermentation jugs and their aging barrels was described in great detail by their master brewsman. He's a man who loves his job and he even said, "When you love your job, it's not work."
It's apparent that he loves his job. Brewmaster Steven brings techniques to the brewery that make each and every batch a little more distinct. Crown Brewing has been purchasing old barrels from distilleries like Jack Daniels and Koval to add new flavors to freshly brewed batches. Flavor gets soaked into the barrels and released into fresh batches from the brewery. Some batches can lie in slumber inside the barrels for up to a year before being added to the tap.
It's not just beer that is brewed at Crown Brewing either. Brewmaster Steven also makes his own soda. Root beer is generally available on tap, but he likes to mix it up with other sodas such as his take on cherry cream soda. Like everything else at the brewery, even the soda is rich in flavor and character. It's the perfect complement for those who might just be stopping in for lunch or want to bring the children home a sweet surprise in one of Crown Brewing's growlers.
After the tour, I was lucky enough to be able to sit down and enjoy a Java Poobah and an Italian beef sandwich. It was a long day learning about the wonders of beer. Can you blame a man? Anyway, the Italian beef silenced my squabbling stomach. The Java Poobah was smooth, distinct and heavy. In other words, it hit the spot.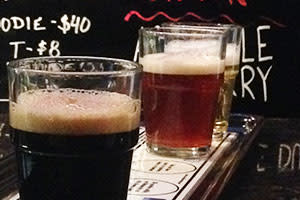 Right next to the bar is a giant menu highlighting all the drinks currently available at Crown Brewing. Everything from guest bottles, usual suspects of the brewery and seasonal drafts are available to order. If you're into wine, the brewery also serves a collection that would make Paul Giamatti blush. Not just because Crown Brewing offers a merlot, but for the variety!
One thing that is welcoming to see from Crown Brewing is the friendliness of the staff. Each member of the staff, ranging from the bartenders to the owner, greets every visitor with a smile and a hand shake. Some visitors might feel intimidated walking into a craft brewery for the first time. I'm sure they face questions like, "What should I try?" or "What's the difference between an ale and a porter?"
Nobody wants to be unsure of what they're ordering, and the staff at Crown Brewing is more than willing to answer any and all questions. Feel free to fire away any questions that spring up as you sit down to order. The beer-loving staff is more than willing to fill you in and leave you confident to choose the beer that's right for you.
Don't forget that Crown Brewing will be hosting its annual Crown Beer Fest on Saturday, May 17. The event will be held at the Lake County Fairgrounds and will include craft brewery samplings from Indiana, Illinois and other surrounding states. Join Crown Brewing for over four hours of sampling fun!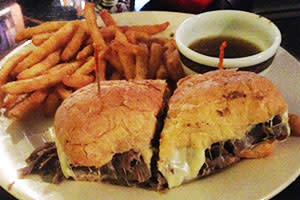 The brewery has everything: great food, great drinks, an inviting staff and even the opportunity to see how it's all done while you wait. Crown Brewing is located next to the old Crown Point jailhouse and is a historical landmark for the city. Tours of the brewery are available the first Monday of every month at 6:00 p.m. Crown Brewing is a part of the South Shore Brewery Trail and is a treat you don't want to miss!