An unsuspecting, hidden gem, tucked right off Ridge Road, Timbrook Kitchens did not disappoint.
As you walk through the doors of the quaint café you are greeted with the overwhelmingly, delicious scent of freshly baked goods wafting through the air and the contagious smile of owner and head baker, Chris Monroe.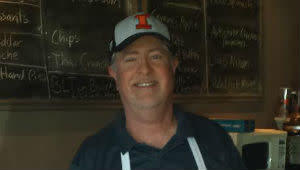 We were welcomed with a rundown of the daily menu which included things like a Pulled Pork & Mozzarella pie, the Crab Nixon, a Spinach & Feta pie, Thai Peanut Slaw, Mushroom soup (that came with buttery, warm bread) and a slew of dessert pies that included Butterfinger, Limoncello, Apple Crumb and a Chocolate/Peanut butter pie. Word to the wise, GO HUNGRY...really, really hungry.

As I sat down at the farm style table with my savory, chicken & artichoke phyllo pie, I couldn't help but feel like I had been let in on a little secret, how had I NEVER been here before? As we chatted with Chris we learned the café was named after his grandfather Albert Timbrook, who you can see pictured on the wall just above a bistro table for two, working on the fields of his farm in Northern Missouri.
Although many of the featured pies are family recipes that have been inherited, Chris admittedly told me most of his inspiration comes from traveling and going out on a "food limb" to try new things.
Variety runs a plenty on the Timbrook menu. Whether you are looking to grab a quick breakfast, enjoy a leisurely lunch or grab one of the "Take Home Dinners," I can promise, you will not be disappointed.
The fare was nothing short of amazing and the service was outstanding. If you haven't been, you are truly missing out.
Timbrook Kitchens
17 Ridge Road
Munster, IN
219-241-9558