One of the best things about the Region is the large selection of breweries. Nothing beats heading to any of the great local ale houses to kick back with some friends and enjoy delicious craft beers. Many of these locations serve unique foods and pub favorites to accompany their brews, as well!
On Saturday, May 18, 2013 from 2pm to 6pm Crown Brewing will be hosting their annual Crown Beer Fest at the Lake County Fairgrounds, bringing together over 30 different breweries and 120 varieties of craft beer. Many of the featured breweries are found here in the Region! Aside from being able to conveniently taste brews from about eight local establishments, as well as others from around Indiana, Illinois and surrounding states, it sounds like it's going to be a really great time for only $35, with designated driver tickets at $5.
Crown Brewing, located in Crown Point, has so many delicious beers it was really difficult to decide which to choose when I stopped in recently. To make the decision process even harder, the Carriage Court Pizzeria, which is connected to the brewery, had some amazing sounding specials, as well. I went with the Crown Brown brew. I don't typically go for brown ales, but it boasts a chocolate flavor, so I figured I'd give it a try; I was not disappointed! My buddy went with the Crown Light; a super refreshing American blonde ale. We also ordered Irish nachos and the BBQ chicken pizza. Needless to say, we left happy. I'm sure Crown Brewing will be bringing some of their best brews to the fest for sampling!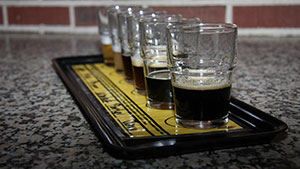 Other local breweries participating in the Crown Beer Fest include the up and coming 18th Street Brewery, which plans to open in Gary, Backroads Brewery out of LaPorte, Bulldog Brewery in Whiting, Figure 8 Brewery in Valparaiso, Hunter's Brewing in Chesterton, Shoreline Brewery in Michigan City, and The Devil's Trumpet Brewing Co., which plans to open in Hobart.
If anyone is able to make it the fest, happy sampling, safe travels, and don't forget to let us know what your favorites were!
Contributing Editor: Stacina Stagner
Former communications coordinator with the South Shore CVA.