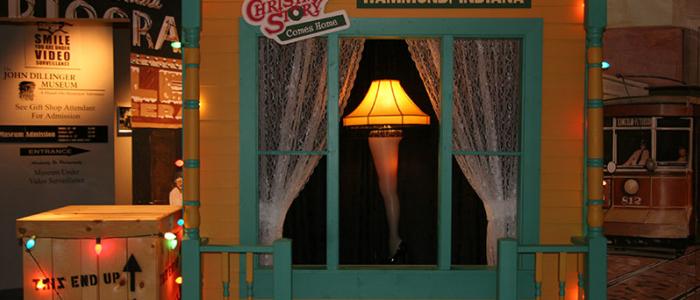 Throughout my childhood, we didn't have very many "traditions" in my family. Of course, we would go to this aunt's house for Easter, or that uncle's house of Thanksgiving. One season, however, that showed tradition year after year was Christmas. For as long as I can remember, there has not been a single year that I have not watched the movie 'A Christmas Story' (or multiple times all year long when my younger brother would watch the movie on repeat).
One of my favorite scenes from the movie is when Mr. and Mrs. Parker are sitting in their living room on Christmas Eve after Ralphie and Randy have gone to sleep. The room is quiet, dark with nothing but the glow of the Christmas tree. Snowflakes are softly falling outside. This scene is something I wait for each holiday season. That moment when the world is calm and serene, and the lights are twinkling. This is the moment where I feel the joy of Christmas (aside from giving someone their carefully thought out gift).
Having started working with South Shore CVA recently, this will be my first Christmas season surrounded by 'A Christmas Story.' Throughout the entire 'A Christmas Story' Comes Home exhibit, multiple events and activities are planned for families to enjoy. Since this exhibit is going into its fifth year, many of these events have become family traditions for people in tune with the beloved holiday classic.
Though the exhibit opens in mid-November, the first big event is 'A Major Event' on Saturday, December 1. During this event, attendees can participate in numerous things. Attendees will be able to take a picture with Santa, write letters to him, decorate cookies and crafts, and even watch the movie; there will be something enjoyable for everyone.
The next big event in the exhibit is the Oh Fuudge Relay Race on Saturday, December 8, 2012. We all remember giggling at that classic scene where Ralphie says the mother-of-all-bad-words (really, he said 'fudge,' but we knew. We knew.) Parent/child teams will race against one another to see who can change a tire the quickest while getting through the obstacle course.
The final big event planned for the 'A Christmas Story' Comes Home exhibit is the Mommy's Little Piggy Eating Contest. On Saturday, December 15, 2012, watch as various age groups compete to eat the most mashed potatoes in the allotted time as Randy did in the movie.
While these big events are going on, there are numerous other happenings, as well. Wag Your Tail Wednesdays will once again allow pets into the building for their chance to take a picture with Mr. Claus in 2012 on November 28, December 12 and December 19, and Old St. Nick will be here every weekend now through Christmas on Saturdays and Sundays from 11 a.m. to 4 p.m. to take pictures with people.
A major holiday tradition that will be seen in each and every event throughout the exhibit is the opportunity to give to those in need. Each event asks of non-perishable and canned food donations as the entry fee. Wag Your Tail Wednesdays will also be collecting items for three local animal shelters as well as donating a portion of each purchased photo to the shelter represented for the day.
While this may only list a handful of what's happening, many more things are going on at the Indiana Welcome Center during the holiday season. For more information on these events and the exhibit, or to register to participate, check out the website www.achristmasstorycomeshome.com.
Contributing Editor: Stacina Stagner
Former communications coordinator with the South Shore CVA.