You may already know that the South Shore is home to some of the finest breweries in the country. You may also know about the South Shore Brewery Trail, which highlights all of the best breweries in the region. But did you know that the South Shore is home to some fantastic brewfests as well? These brewfests include dozens of local breweries bringing some of their newest and best beers to sample and taste. It's rare to get a chance to enjoy multiple beers from various breweries in one location, but at a brewfest you can do just that. It's like experiencing the South Shore Brewery Trail all at once!
Munster Ale Fest
Whether you're a craft beer connoisseur or just looking to see what all the fuss is about, a brewfest is the perfect opportunity to learn more about the exciting world of craft beer. October is a huge month for these festivals here in the South Shore. We start things off on October 17th with the second annual Munster Ale Fest, which takes place in scenic Centennial Park. I was at Munster Ale Fest last year and even though we got a drizzle of rain during the festivities, that couldn't dampen our mood. There's a wide variety of beers, tasty food, friendly people and great live music to keep the atmosphere fun and entertaining.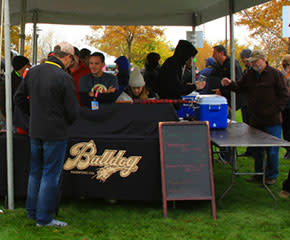 BrOOFEST
Then it's on to the Hobart Chamber of Commerce's BrOOFest at the Radisson Star Plaza in Merrillville, also in its second year, and it's sure to be even bigger and better than last year. There are raffles, giveaways, live music and of course, the region's best craft beers. Come out for an unforgettable evening and a chance to sample dozens of the best brews around! Make sure to mark your calendars for the BrOOFest on October 23rd.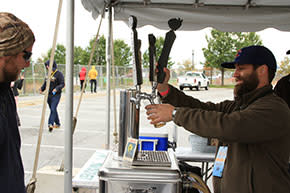 OAKtoberfest
The very next day October 24th, Taltree Arboretum and Gardens has their OAKtoberfest celebration. There's not many places as beautiful as Taltree Arboretum and Gardens in the fall and you can just smell that crisp autumn fresh air when you visit during October. Add in a bunch of the best beers in the region, along with cider and specialty oak-aged brews and it's sure to please all of your senses. In addition, there will be appetizers by Chef David Wodrich from Third Coast Spice Cafe to take things to another level. This one is a can't miss event.
Portage Brewfest
If that wasn't enough, you can also check out the Portage Brewfest that same afternoon on October 24th at Woodland Park, in Portage, Indiana. They will have incredible brews on hand and there's a great opportunity to learn about the process of micro-brewing. Enjoy rocking live music from Clifford of The Crawpuppies and Front Porch Music, as well as other events like a silent auction featuring world class sports memorabilia. Not only can you enjoy this day with good music and tasty brews, you can feel great doing it, because 100% of the proceeds benefit the Portage Township YMCA's Annual Campaign to provide financial assistance in youth development!
South Shore Brewery Trail App
Now that you know about this month's upcoming brewfests, why not sign up for the South Shore Brewery Trail app? It's available on both the Apple Store and Google Play, and it allows you unprecedented access to the local breweries. From notifications about upcoming brewfests to unveiling the latest flavors, you'll never miss an update about your favorite craft beer. It'll even tell you where the closest brewery is and what drinks are on special. There's no reason not to snag this handy app and never miss another brewfest along the South Shore.
Contributing Editor: Jake Giles
Former Video Production Associate with the South Shore CVA.