Megan and I just had lunch at Sage Restaurant's Lunch Grand Opening. Sage in Chesterton (now located in Valparaiso) has been open for a while, but they just started serving lunch from 11am to 2pm during the week.
The server was very friendly and knew a lot about the menu, though it was brand new items for the lunch crowd. She brought out some Sage bread with a few dips for us to try which was quite delicious. She also let us try the strawberry lemonade, made with real strawberries. Megan ended up ordering a full glass after tasting it.
I ordered the Sausage and Pepper Piadina. It was sausage, peppers and mozzarella on thin, fluffy bread that was quite good and also had a side of berries. Megan said the Seafood Mixed Salad she ordered was tasty, too.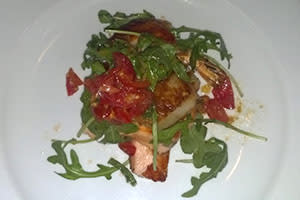 The chef came out and asked everyone how their lunch was, being his first time trying it out and received rave reviews from us and from those around us. Price range for a main dish at lunch is between $10 and $20.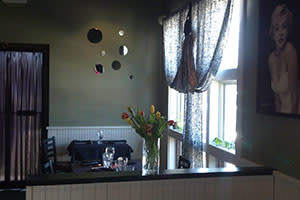 Sage has a very comfortable atmosphere. The décor is simple and goes well with the feel of the restaurant. It's the perfect place for a date night or a quiet meal with friends.