Through May 3, 2012 a unique exhibit will be on display at the Indiana Welcome Center in Hammond, all about the City of Whiting. This exhibit truly is the city in a nutshell – a blend of big industry, small-town charm, and plenty of personality. The exhibit was assembled by a variety of organizations throughout the city and each section has its own style.
As you enter the exhibit hall, you'll see the front of an all-American house with its screen door, red wooden rocker and the flag hanging out front. Nearby in the park, a maestro leads his orchestra in a song at a Summer with the Symphony concert.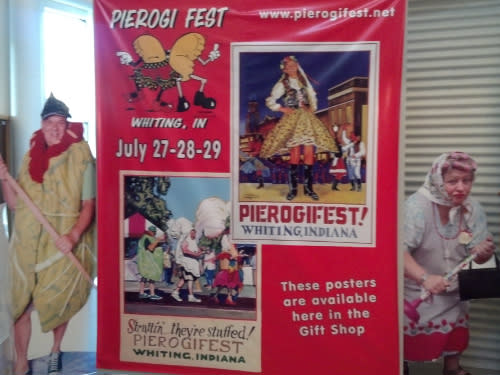 Farther along, get a taste for Whiting's largest event of the year, Pierogi Fest® - complete with life-size cutouts of bushas peeking at you from around the corners and even of Mr. Pierogi himself. Or you can enter the doors of the School City of Whiting and look back in time as you reminisce about your own school years.
The city's history as a refinery town can be seen with a display from BP which includes an old Standard Oil tank car. Plus be sure to visit the city's newest addition – the Northwest Indiana Oilmen Baseball Team!
You'll feel as if you're really browsing in the store windows of 119th Street as you continue your tour. See how many small businesses have come to call the city home including Bulldog Brewing Co, Full Circle Art, White Oak Café and more. Don't miss the classic car from the Cruise Nights or get inspired to build your own car run on an alternative power source and "Race for the Future" in August!
Come view this amazing exhibit featuring the history, character and pride of a beautiful Midwest community. Find out more about the city at www.thesouthernshores.com.
---