The snow is here! Will you be building a snowman, holiday shopping, or curling up on the couch to binge-watch Netflix? If you're feeling adventurous take a look at these great spots to enjoy sledding and cross-country skiing this season.
These are great activities you can do while on holiday break with the kids, too. Too cold outside? We have some indoor things to do at the end of this blog.
1. Indiana Dunes National Park
1100 N. Mineral Springs Road, Porter
Snow covered dunes are fantastic fun in the winter! Grab your snowshoes, cross-country skis or hiking boots to enjoy some time outdoors at the national park. If you prefer sledding, there is one location at the national park where this is permitted - just southwest of the West Beach picnic shelters on the west-facing slope of the West Beach Trails.
Ever tried snowshoeing? You can borrow snowshoes (adult and kids sizes) at the Paul H. Douglas Center in the dunes on a first come-first served basis. Call 219-395-1824 to get a snow update or for more information.
You can also witness a beautiful natural occurrence at the dunes in the winter - shelf ice! Find safe viewing locations of shelf ice here. 
2. Indiana Dunes State Park
1600 N. 25 E., Chesterton 
The Indiana Dunes State Park is home to Devil's Slide, and with a name like that, you know it's going to be fun! You can also hike, cross-country ski and snowshoe at the State Park, if you want to take a break from sledding.
3. Lake County Fairgrounds
889 S. Court Street, Crown Point
Growing up in Lowell, this was one of my family's go-to sledding hills. Families can be spotted here after a fresh snowfall; it's easy to get to and parking is free.
4. Lemon Lake County Park
6322 W. 133rd Avenue, Crown Point
Lemon Lake offers not only sledding hills, but also trails for hiking and cross-country skiing. They are not renting cross-country skis this year, but it's a great place to ski if you have your own!
5. Lost Marsh Golf Course
1001 129th Street, Hammond
When Lost Marsh Golf Course closes, the sleds and skis come out. Visitors are asked to check in at the club house upon arrival before they take to the course for some fun.
6. Sunset Hill Farm
775 Meridian Road, Valparaiso 
Enjoy hiking among the 230+ acres and sliding down the hills at Sunset Hill Farm County Park. Bring your own equipment and enjoy sledding and hiking from dawn to dusk.
7. Oak Ridge Prairie
301 S Colfax St. Griffith
Sled down one of the largest hills in Northwest Indiana, or cross-country ski through an easy three-mile trail at Oak Ridge! Ski rentals are available select weekends and school holidays from 10:00 a.m. until 4:30 p.m. Please call 219-769-7275 or 219-884-7238 before coming out. 
8. Stoney Run County Park 
9230 E 142nd Ave., Hebron
Stoney Run contains seven miles of easy to moderate trails for cross-country skiing that wind through a wooded and hilly area as well as flat open spaces. Keep in mind, this course is designed for intermediate to advanced skiers! 
---
Indoor Activities
If you really want to stay away from the cold and the ice this winter, here are some places you might want to visit!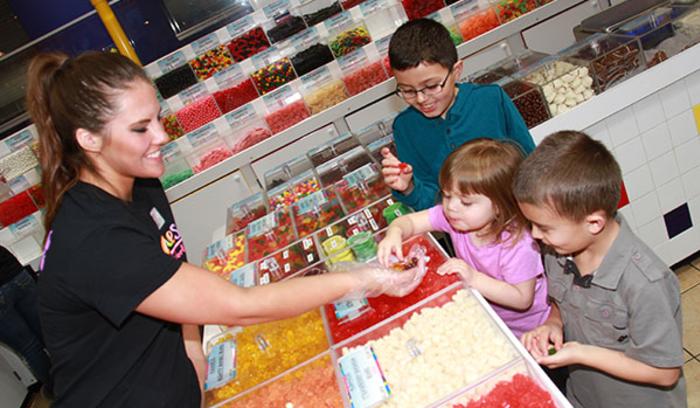 Albanese Candy Factory
5411 East Lincoln Hwy., Merrillville
Albanese is definitely a sweet treat in the Midwest and always a fun family trip! Whether you want to browse the store in search of the most interesting flavors, or simply find your favorite comfort candy you will be amazed at what there is to offer. 
Bellaboo's Play and Discovery Center
2800 Colorado St., Lake Station
Do you have a little one ages 9 or under? Watch them have a ball at Bellaboo's where they can create, engage, and explore with daily activities and interactive fun! 
"A Christmas Story" Comes Home
Indiana Welcome Center, 7770 Corinne Dr., Hammond
Head over to the Indiana Welcome Center to see the animated window displays inspired by "A Christmas Story," take pictures with Flick outside and get some Christmas shopping finished at the gift shop!
Jak's Warehouse
221 Indianapolis Blvd., Schererville
Keep the kids entertained for hours at Northwest Indiana's giant indoor family fun center - JAK'S Warehouse. Try out laser tag, go-karts, rock wall, bumper cars, arcade, sky trail and their 4-D attraction: 'Dark Ride XD'. 
---
Whatever your plans for this winter, make sure to have fun and enjoy your time with friends and family! Don't forget to follow Along the South Shore on social media and tag #AlongTheSouthShore so we can see all the fun you're having.