Summertime along the South Shore has long been a favorite of mine. So many adventurous opportunities open up with warmer weather. From beaches and parks, to summer festivals and fairs, South Shore summers offer a lot for everyone's enjoyment.
Below are a few of the fantastic festivals found along the South Shore:
Pierogi Fest® lines 119th Street in Whiting with delicious food and quirky fun every July. Aside from pierogies, anything else you could possibly be craving can be found. But there really is more to this 3-day festival than the food. On the Friday of Pierogi Fest® weekend, the fun is kicked-off with the silliest parade possible. From the Twirling Babushka Brigade and the Precision Lawn Mower Drill Team, the Pierogi Parade is anything but ordinary. Also found during this celebration of heritage is an arts and crafts fair, beer garden, multiple stages with live entertainment, pierogi toss and pierogi eating contest.
Golf scramble, fishing derby, 5k, car show, carnival rides, live entertainment, food and a polka party all included in one five-day festival in July doesn't seem possible, does it? Well, Festival of the Lakes in Hammond proves how possible it is! This summer festival boasts five days of free top-notch live entertainment, exciting carnival rides and numerous of other activities. I'd have to say the best thing about this festival is the live music.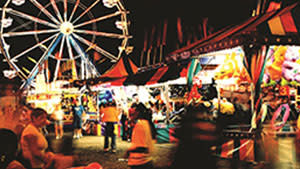 The Grape Escape
Every July in Munster sample wine and enjoy live entertainment, food from around the region, a fine arts fair and an ethnic market during The Grape Escape at the Centennial Park entertainment stage.
Lake County Fair
Check out this traditional county fair every August at the Lake County Fair Grounds in Crown Point! Enjoy the demolition derby, monster trucks, super cross racing, 4-H competition, fair food, carnival rides, horse shows and fireworks. There is also a petting zoo, farm-to-fork demonstrations and numerous contests! Looking for more fair fun throughout the summer? Don't miss Porter, LaPorte, Newton and Jasper County Fairs, too.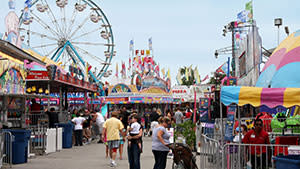 Contributing Editor: Stacina Stagner
Former communications coordinator with the South Shore CVA.