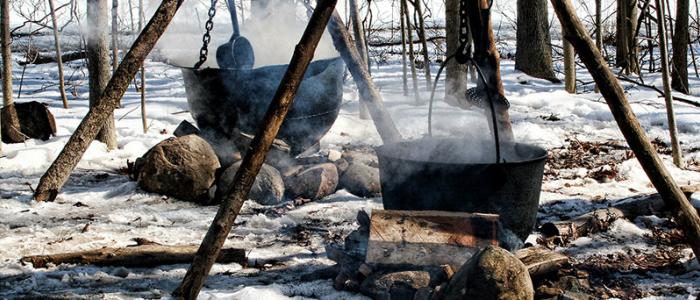 The South Shore's seasonal change of winter to spring brings cold nights and warmer days, the perfect combination for trees to produce sap. Maple sugar farmers head out with their supplies to collect the sap and turn it into the delicious pure maple syrup we love to drizzle over a stack of pancakes or waffles. Read below to see where you can learn about the maple syrup process.
March 14 & 15
10 a.m. to 4 p.m.
During the national lakeshore's Maple Sugar Time, visitors are invited to take a self-guided tour at the historic Chellberg Farm, with park staff and volunteers stationed at trail stops to show how American Indians first boiled maple sap into sugar and how settlers later used large iron kettles to make sap into syrup. Inside the sugar shack, visitors can watch as the sap is boiled down the way the Chellbergs did it back in the 1930s. Visitors can also try their hand at drilling a tap hole and sample pure maple syrup.
Admission for all activities is free. To learn more, call 219-395-1882.
March 14 & 15, 21 & 22
10 a.m. to 4 p.m.
Deep River County Park's annual Maple Syrup Time allows visitors to learn how trees are tapped and sap is collected without harming the trees. Inside the sugar shack, the collected sap is boiled, evaporating the water and leaving sweet syrup. Visitors can meet Voyage-era dressed volunteers and watch as they make maple syrup over an open fire.
Inside Wood's Historic Grist Mill, visitors can watch the miller grind corn into stone-ground cornmeal. Inside the mill, visitors can also play games of checkers in front of a warm crackling fire and taste Deep River's pure maple syrup. The educational and informative movie "Maple Sugar Farmer" will also be shown throughout the day inside the visitor center.
Admission for all activities is free. For more information, call 219-769-1215.
Contributing Editor: Stacina Stagner
Former communications coordinator with the South Shore CVA.