Jackets, dresses and other fashionable items appear on display to visitors walking into the W.F. Wellman exhibit hall at the Indiana Welcome Center in Hammond. Expecting to find these items on the racks at your favorite department store won't happen though; all items on display are made of recycled materials.
The Lake County Solid Waste District has sponsored an environmental art show at the Indiana Welcome Center in Hammond for 12 years now. The TRASHION exhibit, which runs through July 22, 2012, has been a favorite to local artists and visitors alike.
Rita Mazza is the curator of the exhibit and has brought in hundreds of unique pieces every year. "The first ten years we concentrated on fine art. Then last year and we changed the focus to fashion which equals to TRASHION=artistic fashion with an environmental message," Rita said.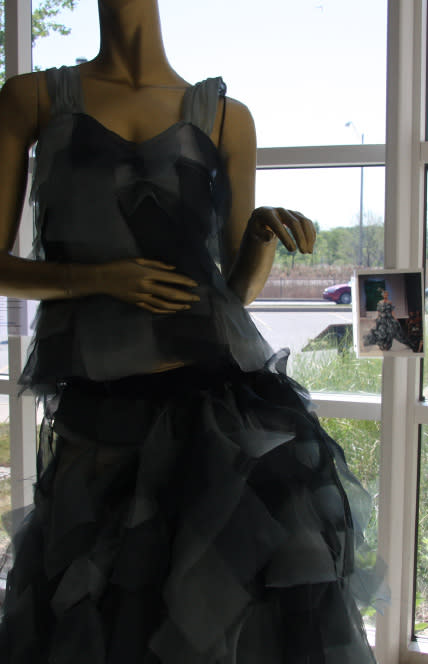 "Twelve years ago the Solid Waste District was hosting the annual Indiana Recycling Coalitions conference. At the time, I was an environmental educator and I had the idea that we create an art exhibit for the reception. We asked Charlotte Brauer, a Munster resident and gallery owner, to recruit appropriate artists. That year we had 12 artists with rain gutter trees and found object paintings. The next year the South Shore CVA invited us back. I was asked to pull it all together and so it goes up to today."
There are about 38 artists in this year's show with almost 200 pieces including jewelry, hats, purses, scarves, dresses, gowns and avant-garde fashion. "We are pleased to have in this show Chicago designer Lauren Lein's Vert Couture collection of re-purposed materials and sustainable fabrics," Rita said.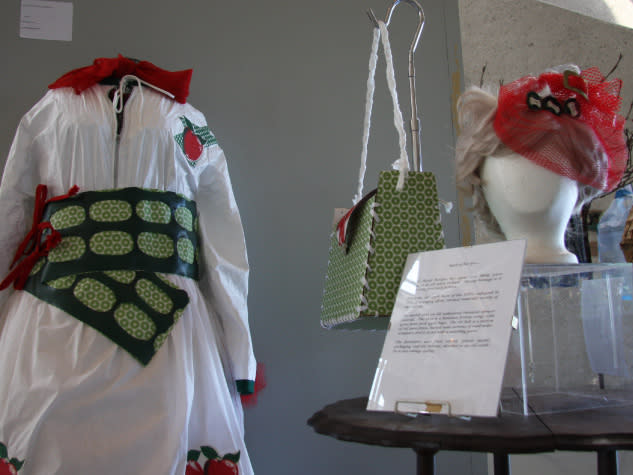 Carol Estes is one of the artists exhibiting for the first time. Carol has designed for two runway shows in Missouri put on by the University of Central Missouri and hautetrash.com. Having seen last year's exhibit, she asked to participate in 2012. "The Apple of His Eye" is the piece exhibited by Carol and includes a dress, belt, hairpiece, and purse. The piece includes rescued materials from an old apple barn from the 1930s which burned down in 2011. Carol posted about her TRASHION experience on her own blog – read more.
Below are just a few of the other pieces in the show:

• What's a Power Purse? Artist Deborah Landry creates purses from vintage purse handles and reclaimed sweaters….the power comes from the Empowered quotes embroidered inside each purse. Each is different and unique and beautiful like snowflakes. They range in price from $20-$85.
• Can you find the jacket made from dryer sheets in the show? Artist Mary Ann Gradisher used dryer sheets imprinted from her computer with pictures of rubbish and sewed them into a stylish jacket with burlap sleeves.
• The four dresses in the front look like lace, ruffles, and flowers but look closely and they are created from pages of romance novels….the pages have been hole-punched, folded and rolled into lovely life-size dresses.
• What is Steampunk? Check out Courtney Ziegler's gown of newspaper complete with goggles, shoulder pad and umpire legging for her Sportteli creation.
• Pete Wories finds quality wood furniture and refinishes, refines the beauty with paint.
• What can you do with vintage tablecloths and old t-shirts? Laurel Bender creates whimsical lovely dresses.
• Gladys Cook creates a simple sophisticated gown made from black garbage bags…which means it's waterproof so if you spill while wearing it, just wipe it off with a damp sponge.
• Like in "The Sound of Music" Jackie Cottrell takes an old curtain and created a cute shorts and top set.
• Blue jeans are always part of this show…see a jacket made by Marcella Clutter and a dress from Yunan Cui.
• T-shirt quilts and blankets are on display by Kelly Davis and Joyce Van Sessen.
• Neckties are made into sexy summery tops and a swirling skirt by artists Joanie Horn and Natalina. Bring your own ties and Natalina can make a custom top for you.

So bring the family out to the Indiana Welcome Center before July 22, 2012 – there's something for everyone to discover in this exhibit! For more photos, visit the album on our facebook page.
---