Have you ever found yourself in the situation when a friend from out of town asks, "Hey, what's there to do around here, anyway?"
It's a common thing we've all experienced. What's your usual first thought? Do you go with the tried and true, "Just head to Chicago?"
We've all done it, and I've been guilty of it myself. I'm not proud to admit it, but it seems like I didn't even know the region before I started visiting some of the great places it has to offer. Arboretums and gardens, winding brewery trails and fun centers are just the tip of the iceberg. Recently I had gone on a #FAMTour with the South Shore CVA and some fellow workers in the travel and tourism industry. #FAMTours are bus trips that tour the region to familiarize attendees with all that's offered in an area. On our tour, we visited The Shrine of Christ's Passion, Teibel's Family Restaurant and Hampton Inn & Suites all before concluding the trip with a stop at JAK's Warehouse.
If you're anything like how I used to be, you might not be that familiar the places we visited. Don't worry, I took some notes on what to expect at a few locations, but don't just take my word for it - go!
The Shrine of Christ's Passion
Detailing the events of the Last Supper, the Garden of Gethsemane and the Stations of the Cross, The Shrine of Christ's Passion is a half-mile journey of the final days of Christ. The Shrine is open 24 hours a day, seven days a week, weather permitting. If the half-mile path seems a bit much, just know that there are golf carts available that will take you on a tour throughout the park. Even as the day gets late, the path stays illuminated at twilight.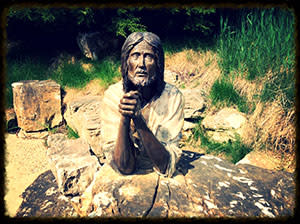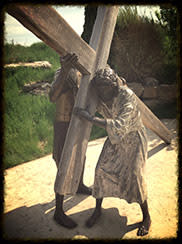 There are 40 life-sized bronze statues along the path placed at the stations you visit. Every station has an audio recording voiced by Bill Kurtis detailing the events within each breathtaking scene. Bill Kurtis' voice and the wind are not all that you hear while on the journey, because background music plays on the 180 speakers located throughout the path. It's not just mundane and redundant music either, because each scene evokes a different emotional response from the viewer. With each new scene you see, different music inspired by the scene plays softly in the background. Maybe it's anguish you feel, sorrow or optimism. Wherever your headspace might go, the music will follow.
The landscape of The Shrine is imported from the lands of the Mediterranean to give visitors the feel of European life two millenniums ago. Altogether, the path will take roughly an hour and a half to go through, but you can take as much time as you need during your visit. Once you finish the path, right on-site is The Shrine of Christ's Passion gift shop with over 10,000 products ranging from jewelry to books to art!
If you're looking for a place to clear your head, look no further than The Shrine!
Teibel's Family Restaurant
I see it every day whenever I'm headed down Indianapolis Boulevard and I never truly knew what to expect from the restaurant. As a strapping young buck, I didn't even know what a Teibel was. Word to the wise: It's a family name and a generational restaurant that makes you feel like part of the family at every visit.
Let me just say that Teibel's knows how to whip up some dishes to silence your grumbling stomach and their service makes it even better. There's a reason why the restaurant has employees that are winners of the R.O.S.E. Awards. The service is quick, timely and just oh-so-enjoyable!
Teibel's Family Restaurant is the main stage and a staple restaurant within the region. We were served some world-class perch, chef's salads as big as lettuce mountains and for dessert, we were served their classic peppermint ice cream.
Can I really say which one I liked the best? Well, that's like asking, "Who is your favorite Avenger?" It just can't be done and you realize that each component complements the next! (You're looking at a huge Hulk fan here, but I consider the Hulk like the perch at Teibel's…he's great by himself, but becomes excellent with the rest of party!)
JAK's Warehouse
It's the Mecca of fun. Literally, your imagination cannot fathom nor maintain the amount of fun to be had at JAK's. I am a grown man with a half mustache, a car payment and a new haircut. I know fun. You think of the attraction, and it will be at JAK's. What has laser tag, mini golf, bumper cars, an arcade and towering rope walks all in one? JAK's does. Maybe you become famished while you play on all of the attractions. Well, JAK's has a restaurant away from the action so you can recover and collect your thoughts.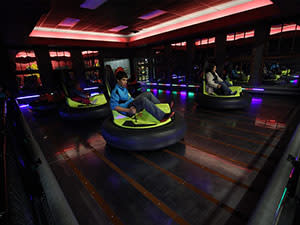 No fun center is complete without one key element. Go-karts. Does JAK's have go-carts? Of course JAK's has go-karts. "Wait, Tyler!" you might be exclaiming to yourselves a bit too excitedly, "What if it rains? How can we possibly have fun on go-karts and all these other attractions then?"
Here's the plot twist - everything at JAK's is indoors! Yes, the rain, snow and slush can all beat it because they can't possibly take the fun away. I think when they added the latter to their name, the warehouse, they only could have meant that they are the storage of all things fun. JAK's is a see-it-to-believe-it kind place. Prepare to have your minds blown. I've seen it and yes, I believe it.
The Verdict
What I've listed are only three things that the region offers. We experienced all three in one afternoon and I'm thankful that I live here to experience more of great locations in my backyard. Three doesn't seem like a lot because Northwest Indiana has endless amounts of options for a night on the town. It becomes difficult to recommend a location to somebody, but not because I don't know where they should go anymore. It's actually the opposite. I know of wonderful places where you can spend your days and nights in town and it will feel like an escape. No longer will I have to answer that tried and true question with, "Try Chicago?"
I don't need Chicago. All I need is a list of places to go. Need some place to start? Check out: southshorecva.com/things-to-do for a full list of everything that's happening around you. Be brave and explore this great region of ours!