Only 20 minutes from Chicago, the City of Whiting is transforming into a beautiful lake-side destination with small town character. Well known for it's signature event, Pierogi Fest, coming up July 29-31, 2011, Whiting is hoping to draw more visitors to it's shore all year long.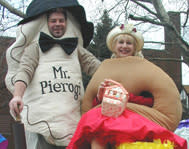 Jim Sandrick, a local insurance agent and advocate for his hometown, recently led some of us on a tour for first-hand peek. He revisited some of the city's history and noted the changes being made as we made our way down the streets, tapping on windows and saying hello to fellow business owners and residents along the way.
Whiting's lakefront, businesses district, and homes are being restored and transformed in amazing ways. Home to BP Refinery, the city has the benefit of the refinery reinvesting in its home town as well as being part of the Marquette Plan, a federal program to reinvest in Lake Michigan's shoreline.
The largest project for the city is the transformation of Lakefront Park. The park will include a 2-tiered boardwalk along the lake which will connect the Whiting trail system to the Hammond trail system which then goes up through Chicago. The project will also include a pavilion with stage and bandshell, a play park with a splash pad, and a lakefront gazebo.
With the Residential Rehabilitation Grant, many of the older homes' facades have been beautifully restored. I felt like I was entering the world of Norman Rockwell when we walked down the streets of the close-knit neighborhoods, just a block or two from the shopping district.
The main business district up and down 119th Street is also busy getting a facelift. The city is purchasing many of the empty buildings, renovating them and selling them to incoming businesses.
If shopping is your thing, Whiting has many small shops, from clothing to antiques. There are also art studios, wedding shops, a family-friendly theatre and numerous restaurants.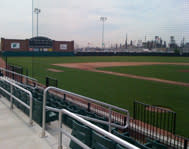 One of the new developments is Oil Stadium, a premier high school baseball stadium. The stadium seats almost 800 and is used by a number of groups including the high school, adult leagues and the Midwest Collegiate League. The city has hopes to use the field for larger leagues and sporting events in the future.
So if you're in the area this weekend for Pierogi Fest, take a stroll around the city and see for yourself all of the amazing changes "refining" Whiting.
Visit www.whitingindiana.com for more information and commercials they have begun airing to draw visitors to their shore. Click here for more pictures we took on our tour on our facebook page.