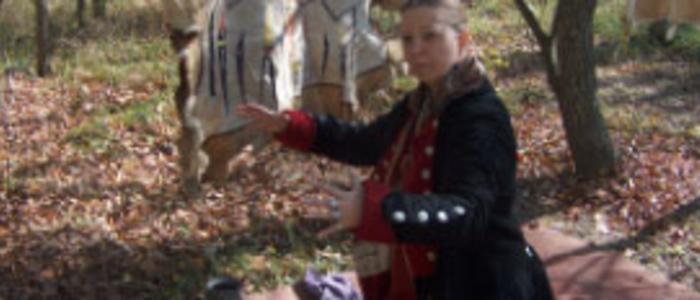 The public is invited to see how the Woodland Indians lived in our area before the white man settled here. The camp will be open at Buckley Homestead to celebrate the Season of Maple Sugaring March 2 and 3 from 10am to 4pm. At this free program, the public can watch as the Indians boil the sap down to maple sugar. 
See their wigwam homes, decorated clothing, wild and cultivated foods - all nestled in the hardwood and pine trees. Hear the stories, smell the cooking fire, and feel the bark of the willow saplings in the wigwam frame as volunteer re-enactors live the lifestyle of those who were here in 1750.
The Callumic Band of Great Lakes Woodland Alliance sets up camp in the Buckley Homestead back 80 acres, just southeast of the pioneer farm. To visit the Woodland Indian Camp, follow the trail from the parking lot on Hendricks Road past the animals at the 1910's farm, to the Pioneer Farm. Then follow the path southeast of the log house. Belshaw Road, which runs through the park was an old Indian trail that was near the northern edge of the Great Kankakee Marsh before it was drained in the early 1900's. The Indian Camp is on the northern edge of that Marsh.
Dress warmly for this outdoor program!