9th Annual Jammin with Save the Dunes
June 1, 2019
115 Lake Shore Drive
Michigan City, IN 46360

Website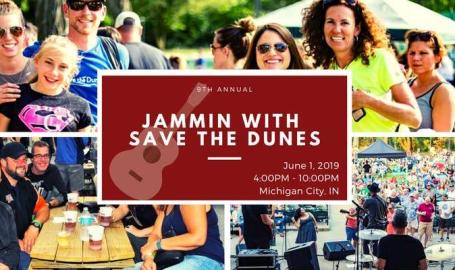 It's time again for Jammin with Save the Dunes!! Jammin is a signature fundraiser which brings hundreds of dunes lovers to beautiful Washington Park.
The festival features many of your favorite local breweries, local wineries and local food. 

Here is the INCREDIBLE lineup!
Waco Brothers
The Blisters
Steal the Farm
River Kittens
& Robert Rolfe Feddersen at the Beer Tent

Food, beer, and more! As in the past, there will be featured delicious local grub from a number of food trucks as well as craft beer and wine from local breweries and wineries. Be sure to also check out our vendor area where you can find cool dunes related swag. And, of course, be sure to stop by the Save the Dunes' table and become a member!

This event is family friendly. All ages are welcome. Be sure to check out our Kids Zone during the hours of 4:00pm - 8:00pm. 

Get your tickets today! Tickets are $20 online and $25 at the door. All beer is only $5 each and includes a signature recyclable plastic cup. Food and beverages are available for an additional cost. Not only is this an amazing deal to see these bands, but it supports a worthy cause!

To learn more about Save the Dunes' efforts, visit www.savedunes.org.

Extra Details
Kids 12 and under are free. - Must be 21 to consume alcohol with valid photo ID. - Consider bringing lawn chairs to enhance your experience. - No dogs allowed at Washington Park.

For more information call 219-879-3564 x121 or email events@savedunes.org.