CANCELLED - Indiana Dunes Birding Festival
This event has already passed. Please check our calendar for more fun events in the region!
May 14, 2020 - May 17, 2020
1600 N 25 E
Chesterton, IN 46304

Recurrence:

Recurring daily
Website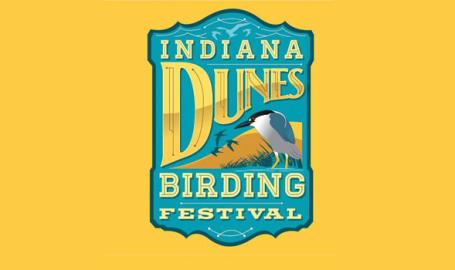 This event will return May 13-16, 2021.
Celebrate the migration of birdlife through the Indiana Dunes region this May 14-17, 2020 at the sixth annual Indiana Dunes Birding Festival. The entire festival program schedule has now been released, featuring over 150 individual trips, programs, and workshops. The event is being organized by the Indiana Audubon Society and includes both the Indiana Dunes National Park and Indiana Dunes State Park as site hosts.
The four-day festival will include guided field trips and carpool tours to view migrating birds within the dunes area, bird related programs and workshops, live bird of prey presentations, a native plant sale, and special art instructional workshops for both new bird watchers and nature enthusiasts. Evening events include special excursions for owls and whippoorwills, an art exhibition open house, and a family friendly "birds and brews" social event.
Discounted registration for priority Indiana Audubon Society members begins March 1, with general early-bird registration beginning March 8. General registration costs for the entire four-day festival run as low as $45 for adults and $35 for youth under 18.
A special Migration Marketplace will occur throughout the festival and include national and local vendors representing bird related products, including optics, field guides, bird feeding, and bird related arts and crafts. Vendor applications are now being taken at www.indunesbirdingfestival.com.
2020 Festival Keynote: Scott Weidensaul
A World of Wings: Migratory Birds on a Changing Planet
Saturday, May 16, 2020 5:30pm – 9:30pm / Sand Creek Country Club, Chesterton, IN
Even as scientists make astounding discoveries about the navigational and physiological feats that enable migratory birds to cross immense oceans or fly above the highest mountains, go weeks without sleep or remain in unbroken flight for months at a stretch, humans have brought many migrants to the brink. Based on his forthcoming book "A World of Wings," author and researcher Scott Weidensaul takes you around the globe -- with researchers in the lab probing the limits of what migrating birds can do, to the shores of the Yellow Sea in China, the remote mountains of northeastern India where tribal villages saved the greatest gathering of falcons on the planet, and the Mediterranean, where activists and police are battle bird poachers -- to learn how people are fighting to understand and save the world's great bird migrations.

Festival Headliner: Sarah Saunders
Survival by Degrees: 389 Bird Species on the Brink
Thursday, May 14, 2020 | 11:30am – 12:30pm | Indiana Dunes Visitor Center

Festival Headliner: Hannah and Erik Go Birding!
The Birds Don't Know They're Special!
Friday, May 15, 2020 | 11:30am – 12:30pm | Indiana Dunes Visitor Center

Festival Headliner: Marc Kramer and Eliana Ardila Ardila
Birding by Bus: Where Van Life Meets Birding
Saturday, May 16, 2020 | 11:30am – 12:30pm | Indiana Dunes Visitor Center

Festival Headliner: Adriaan Michiel Dokter
3 Billion Birds Lost: A Biodiversity Crisis
Sunday, May 17, 2020 | 11:30am – 12:30pm | Indiana Dunes Visitor Center