Century of Progress Tour - SOLD OUT
September 28, 2019
1215 N Indiana 49
Porter, IN 46304

Website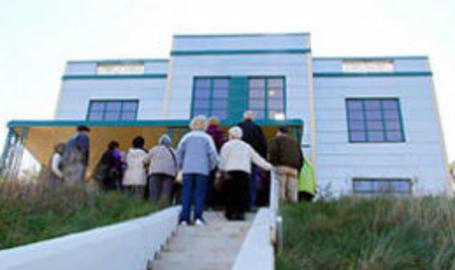 Online reservations for the popular Century of Progress House Tours at Indiana Dunes National Park begin on August 5th at 8:00 am, Central Daylight Time. The tours of the five houses, that were built for the 1933 Chicago World's Fair, take place on Saturday September 28, 2019. Tickets, priced $35 for the general public and $30 for members of Indiana Landmarks and the Dunes National Park Association, sell out almost immediately.
Find more information and purchase tickets here.
The house tours last a little over two hours and are guided by park rangers and volunteers who will provide histories and architectural overviews at each property. The tour admits visitors to the first floor of the restored Florida Tropical, Rostone, Armco-Ferro and Cypress houses. Also on the tour is the House of Tomorrow, declared a National Treasure by the National Trust for Historic Preservation, but still in need of restoration. Indiana Landmarks is currently accepting proposals for the property's restoration and long-term lease.
For a deeper understanding on the Century of Progress houses and their restoration, there is also a talk on Friday, September 27, 2019, from 7:00 pm – 9:00 pm at the Indiana Dunes Visitor Center. There is a separate charge of $10 for this talk ($5 for members of Indiana Landmarks and Dunes National Park Association). To register, go here.
Touring the historic houses requires walking and climbing stairs. If you require accommodation, please call Indiana Landmarks' Northern Regional Office at 574-232-4534. For additional information about the tours or reservations, please call the national park's information desk at 219-395-1882.