Cheese + Charcuterie | Styling your board with The Gourmet Goddess
July 1, 2021
12615 Wicker Avenue
Cedar Lake, IN 46303

Time:

6:00 PM to 8:30 PM

Price:

$75
Website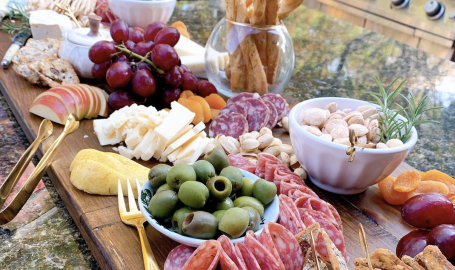 The Gourmet Goddess cheeseboard workshop is BACK!
Join us July 1st at 2 Old Goats Market for this hands-on workshop learning how to create your own beautiful cheeseboard.
The Gourmet Goddess, Katie Sannito, has made cheeseboard styling a regular part of her private event catering business and wants to share all her favorite things about it with you.
She will take you through the different types of cheeses, cured meats, how to pair them, and all the delicious accoutrements that will make your cheeseboard a thing of beauty.
Then, you'll let your inner foodie loose as you build your own board to take home.
Individual cheese samples along with light refreshments will be available.
Cost - $75 per person.
Your swag includes:
*slate tile to build your cheeseboard on AND take home!
*Formaticum cheese storage bag
*The Gourmet Goddess' cinnamon sugar glazed pecans
*sample jar of Thornburg and Company artisan preserves
*GG's exclusive cheeseboard making guide so that you'll have all the details at your fingertips.
COVID-19 precautions
*We will practice safe social distancing measures by keeping the class size to a maximum of 15 guests.
*Wearing masks is required when inside the building.
*Seating will be socially distanced. You may opt to be seated next to another guest you are attending with. Arrangements can be made prior to the workshop.
*All ingredients for each guest's cheeseboard will be individually packaged. There will be no open food bowls.
*Gloves will be provided for each guest to use when building their cheeseboard.
*If you are not feeling well and need to cancel, a full refund will be provided.
We look forward to spending the evening with you!