Civil War Round Table with Father Bob
December 9, 2019
12615 Wicker Avenue
Cedar Lake, IN 46303

Website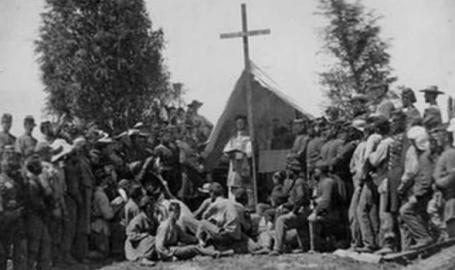 Join 2 Old Goats Market for the second round table with Father Bob!
Why Religion and Faith Matter in the Civil War.
It was an extremely devout country that went to war in 1861, yet perhaps the most ignored topic of Civil War study is the role that religion and faith played in it. Before, during and after the war, religion and faith had a deep, pervasive influence on politicians, soldiers and civilians alike. You will consider 7 reasons why religion and faith's role was critical in justifying, supporting and promoting nearly every aspect of our Civil War.
Robert J. Miller is a Catholic priest of 43 years, presently ministering at St. Dorothy Church in inner-city Chicago. He has Masters degrees in Religious Education and Divinity, has authored 5 books on Spiritual- ity and faith and was an adjunct professor of Church History at the University of St. Mary of the Lake. He is a past President of the Chicago Civil War Round Table and a frequent speaker on the topic of faith in the Civil War era. His 2007 book, "Both prayed to the Same God-Religion and Faith in the Civil War", was widely acclaimed and was the first book-length comprehensive overview of the topic.
$5 for discussion, coffee and donut.