DHC Haunting in Hammond
This event has already passed. Please check our calendar for more fun events in the region!
October 5, 2019
5201 Hohman Avenue
Hammond, IN 46320

Time:

11:00 AM to 7:00 PM
Website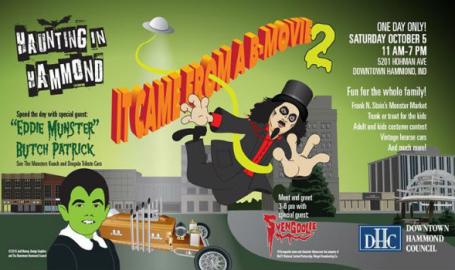 -Meet Svengoolie/TV Host & Personality

-Win a signed rubber chicken from SVENGOOLIE!

-Meet Butch Patrick! Butch Patrick is synonymous with pop culture and the loveable character of Eddie Munster from the iconic television show, The Munsters! A character role that he embraces for the millions of fans who love The Munsters!
Whether you have seen Butch on TV or have had the opportunity to meet him in person, you got a glimpse of who he is....genuine.
Butch is one of the original Munsters, but the only one touring and meeting Munsters' fans! He is keeping the Munsters' alive! Don't pass up any chance you get to meet Butch Patrick, the memorable and loveable Eddie Munster!

-Halloween & Oddities Market including art, vintage, re-purposed & hand-crafted goods, and more!
.
-Tour the vintage "B" horror movie sets & take selfies at EAT

-Rick Goldschmidt Rankin/Bass Historian and Biographer brings memorabilia from the movie Mad Monster Party.

-Adult libations and delicious food will be available

-Costume Contest for Adults and Kids (win trophies and prizes!)

Taking place outside of EAT on Sibley Blvd (Please note that Sibley Blvd. will be closed for the event):

-Trunk or Treat sponsored by the Hammond Development Corporation

-Hardcore Hearse Club will be offering a your photo in a casket opportunity at the Haunting in Hammond festival, as well as creepy oddities and curiosities for sale at the event. Make sure you stop by!