Halloween Caroling!
October 30, 2020
217 Gregory Street
Schererville, IN 46307

Website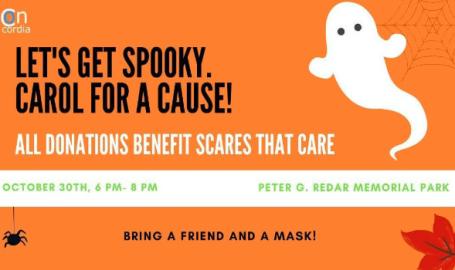 This Halloween looks incredibly different than usual, but we're not giving up on spooky season yet. Take a break from binge-watching the Scream series and come spread some holiday fear to raise money for Scares That Care (
https://scaresthatcare.org
)! Join us on Oct. 30th from 6-8 PM to sing everyone's favorite Halloween songs (hello, Nightmare Before Christmas soundtrack) while maintaining a safe, socially distanced environment!

We will meet at 6 PM at the Peter G. Redar Memorial Park in Schererville, IN before splitting into groups and traveling different routes. We will then meet back at the park at 7:30, to count the total amount of donations.
Be sure to wear a face covering, and also feel free to wear a costume!
If you'd like, you can bring a bag of individually wrapped candies that we will be handing out while we carol.
From the Scares That Care website:
As a 100% volunteer organization, we are focused to fight the REAL MONSTERS of childhood illness, burns, and breast cancer by helping families who are experiencing these extraordinary hardships cope with the financial burden by raising and providing $10,000 per recipient family.
https://scaresthatcare.org/
If you have any questions about this event and how we plan to maintain social distancing, email us at concordiahub@gmail.com !