Hessville Star
February 7, 2020
8353 Indianapolis Blvd
Highland, IN 46322

Website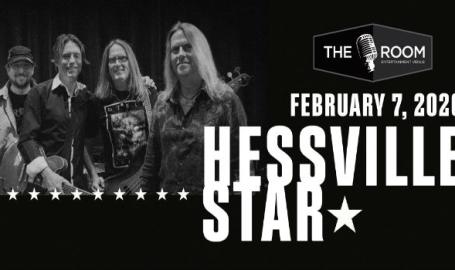 Join the Room on February 7 for Hessville Star. 
Bass, acoustic guitar and vocals: Billy Ozzello comes to us from the band Survivor, as well as experience with other household-name bands. An incredible bassist and an equally impressive vocalist. We refer to him as Billy Ooooooooooohhhhh. We also would like to thank him for the practice spot and his hospitality. In addition, he is also the owner of Billy O's Dynamite Music on 105 N. Broad St., Griffith, IN. He's the guy to see for all your music needs!!
Keyboards and vocals: Chris Grove, who plays keys for Eddie Money, is arguably the most talented keyboardist you will find, not to mention a bad-ass cook. I recommend the pasta fasul. He can also harmonize with anyone or anything. Often imitated, never duplicated.
Drums and vocals: Chris Karp is a local favorite among other musicians and fans who also know him from The Crawpuppies and Bravo Johnny. I once heard someone say, "Hey Dad, I can't see real good, is that John Bohnam over there?" While singing, Chris has often been mistaken for Steven Tyler and Bon Scott. Try and find another. Oh, and he's an incredible drummer!
Lead Guitar and vocals: Zeke Rongers, who has been known to play a little guitar from time to time. He says he was grounded a lot in his youth so all he did was jam. That's probably because that's what happens when you are a self-taught driver at age 12 and you learned with your parent's car. You may remember him from such bands as Nick Danger, Bonfire, It's About Time and White Dove. The quickest way to his heart is through his stomach.