Indiana Dunes Outdoor Adventure Festival
October 4, 2019 - October 6, 2019
1215 N Indiana 49
Porter, IN 46304

Recurrence:

Recurring daily
Website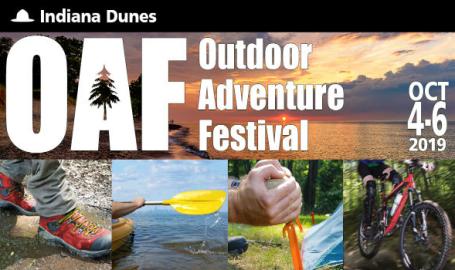 Enjoy a weekend at the Indiana Dunes Outdoor Adventure Festival, which takes place Friday-Sunday, October 4-6, throughout the Indiana Dunes region. Packed with outdoor adventure opportunities, the festival brings together more than 70 events into one, fun-filled weekend. Indiana Dunes National Park hosts this three-day event with support from Friends of Indiana Dunes, Indiana Dunes State Park, Indiana Dunes Tourism, and more than a dozen other partners.
Centered at the Indiana Dunes Visitor Center in Porter, Indiana, the festival showcases the region's outdoor activities such as hiking, paddling, biking, geo-caching, photography, bird watching, camping, yoga, and many others. The festival has events for everyone including families, beginners, experts, and those with limited mobility.
The festival also features activities in Porter, LaPorte, and Lake Counties. Highlights of the weekend include paddling trips on the Little Calumet River, Lake Michigan, and Lake George in Hobart; dozens of hikes led by experts and access to natural areas not normally open to the public.
Registration for the festival is required using the website https://www.dunesoutdoorfestival.com. Many events have limited spaces and will fill up quickly, so registering before the festival weekend is highly recommended. To help cover costs, there is a $10 festival fee for adults that is good for all three days. Children, under 18, are free. The online registration page goes live on Friday, August 30.