Joe Rauen Musical Experience
August 22, 2020
695 North 400 East
Valparaiso, IN 46383

Website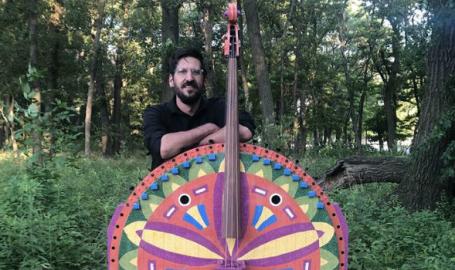 Joe Rauen is an artist and musician who makes one-of-a-kind musical instruments from things lost, found, or repurposed. His work incorporates the use of canes, hockey sticks, tennis racquets, household plumbing, salad bowls, cat food cans, and even a kitchen sink. His live performances consist of Rauen playing numerous instruments in combination, beatboxing, improvisation, and humor.
Rauen received a Bachelor of Music degree in Performance from the Berklee College of Music


His appearances include
The WGN Morning News
A year-long residency at the Ace Hotel (Chicago)
Fulton Market Kitchen (Chicago)
Cafe Mustache (Chicago)
Eye on the Arts
Art on the Air
Opening Reception For Things Go Bump In The Night (South Shore Arts)
Gary Love Fest
Art Blitz
A solo art exhibit at Union Street Gallery


In the summer of 2019 Rauen was awarded an Individual Advancement Program grant by the Indiana Arts Commission. His proposal to build a massive, colorful, sculptural musical instrument will culminate with a performance at the Art Barn. The instrument is called the Asteroidea. It stands over six feet tall, weighs 120 pounds, and has 21 strings. Some of the inspiration for this instrument comes from the instruments of Indian Classical Music. Rauen will perform the Asteroidea solo and in combination with his other creations, discuss the process of making the instrument, and take questions from the audience.
$5/ticket, free entrance for children under 12