Leon's Mom's Virtual Duathlon & Fun Run
June 7, 2020
Website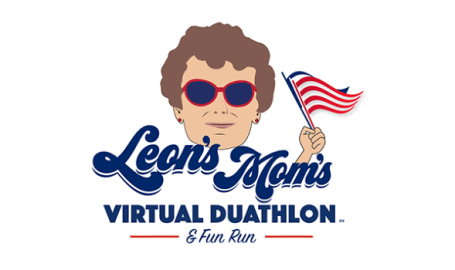 We might be bummed about the situation, but Leon's Mom won't let the 2020 event be replaced by an asterisk. She pushed us to persevere and to get creative.
Julie Wolek was born into the Great Depression, lived through the perils of war, and has seen it all.
Like our athletes, she's stoic, adamant, and purposeful. She has attended every Leon's Triathlon since inception and won't dare let the 2020 event be replaced by an asterisk. Her voice motivates us to persevere, to mobilize, and to get creative.
In that spirit, please join us for Leon's Mom's Virtual Duathlon & Fun Run!  It's simple, low tech and perfect for veteran competitors and aspiring athletes alike. Social distancing approved. No need for one of those fancy GPS doohickeys. Hell, you won't even have to swim (or even bike) if you prefer. 


Best yet, it's only $10 to join the festivites. Those who prefer more swag (race bibs, finisher medals, vintage t-shirts and more) can upgrade for an additional price. She's putting out the tip jar, too, in support of our amazing friends at 
Dare2Tri
. Let's show them some love.
This event is perfect for anyone seeking a bit of motivation or a dose of accountability (or both) from Leon's Mom. Athletes enroll online and commit to one (or two, or three…) of five athletic challenges to achieve on their own schedule, from anywhere.
Participants must complete their required challenge and share their finish results with Leon's Mom online before 11:59 p.m. CT on Sunday, June 7, 2020. At that point, submitted results will be locked and tabulated for awards. During the process, finisher names and times will be added to Leon's Mom's fridge (and posted online)!
If you're interested in securing some actual race swag, consider upgrading for an additional $30 fee. Beyond the gold star next to your name on the fridge, Leon's Mom will mail you a Leon's Mom's Virtual Duathlon & Fun Run finisher kit, including a custom finisher medal, a vintage Leon's Triathlon t-shirt and a few other tchotchkes to celebrate your accomplishment.
We'll continue to add more elements and fun engagements with sponsors and friends over the next few weeks. If you're ready to commit, let Leon's Mom know that you're in for the challenge! Registration is now open below. Please don't forget to share this with your friends and neighbors, too.
The Nitty Gritty Details
Event Options
This virtual event features five unique options, accessible to novice and competitive athletes alike. Registrants may compete multiple events if they prefer.
See website for more details.