Maxwell Quartet
March 12, 2020
8808 Columbia Avenue
Munster, IN 46321

Time:

7:00 PM to 10:00 PM
Website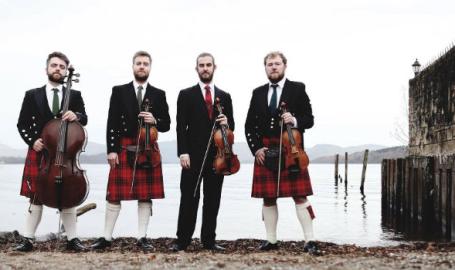 Hello! We are the Maxwell Quartet - Four friends, three hailing from separate corners of Scotland, and one from Surrey, England - and having known each other from the early days of sharing rooms on youth orchestra courses, at music schools and as students, there is a natural, infectious friendship between the four of us, a friendship which runs deep in our music-making, and is inextricable to our performance style.

Every day we feel lucky and excited to be delving into the string quartet repertoire, regarded by many as some of the greatest body of artwork in human history. We feel this music deeply, and are passionate about bringing these artworks to life, communicating them to as many people as might want to listen.

Intrinsically connected to this passion is the group's love of exploring Folk Music. Colin, George and Duncan all grew up with the traditional folk music of Scotland ringing in their ears, and after sparking a musical friendship with Elliott, they have together developed their own voice in folk music as a quartet.

We believe 'Folk' music is the root, the fundament of classical music, and our approach aims to marry the two together in a unique, free, and meaningful way. For us, every melody is a song, every rhythm a dance.

We hope you enjoy listening to our performances, and we hope that they will communicate something meaningful to you. We hope you can listen openly, without walls or barriers, and enjoy the music as much as we do!