New Oberpfalz Special Menu
July 3, 2019
121 E. Main St.
Griffith, IN 46319

Time:

11:00 AM to 7:00 PM
Website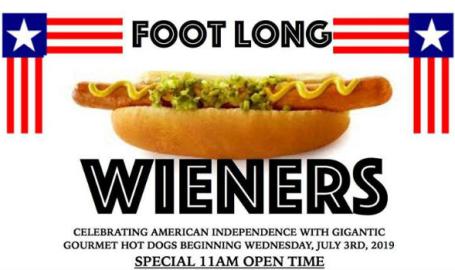 You COULD have a Wednesday July 3rd BBQ at home, but why do that when you can come to New Oberpfalz for some gigantic hot dogs?
Gourmet foot long dogs, locally sourced, boiled in Helles Lager and expertly dressed with the finest accoutrements.
Go Coast to Coast in America with hot dogs. Coney Dogs, Seattle Dogs and Chicago Style Dogs. Plain foot longs will also be available if you want to take it easy, or if you want to bring the kids along.
There is no better way to celebrate American Independence than with a cold beer and a huge hot dog. We will offer these gourmet sausages all weekend, while supplies last.