Open Your Heart: Yoga & Breathwork for Mother's Day
May 9, 2021
200 County Line Road
Hobart, IN 46342

Time:

1:00 PM to 3:00 PM

Price:

$30
Website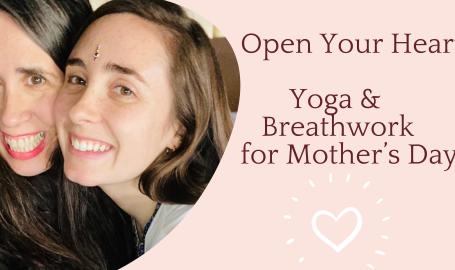 This heart-opening workshop is a celebration of the mother-daughter bond, and a chance to open to new levels of connection and appreciation.
Join daughter-mother team Winona Holmes-Robbins and Michelle Holmes of Heart's Ease Love and Freedom Center as they guide you through gentle yoga poses, guided meditation and a special Mother's Day breathwork session.
Breathwork's popularity is sky-rocketing around the world as people experience its transformational heart-opening effects.
Lying comfortably on your back, you'll experience how circular, connected breathing can shift your energetic state, clearing out old stuck emotions and stories, and offering more space for openness, acceptance and connection.
This workshop is perfect for women of any fitness levels who want to journey deeper into the power of love.
Winona is an Ohm Yoga Teacher and personal trainer. Her mother Michelle is an integrative health coach, breathworker and hypnotherapist. They love to explore how women can continue to grow together, at any age.
Bring your mother, daughter, sister, friend or coworker for this special Mother's Day celebration. Stay for tea and chocolate after!