PCMGA Garden Walk
June 26, 2021

Valparaiso, IN 46385

Website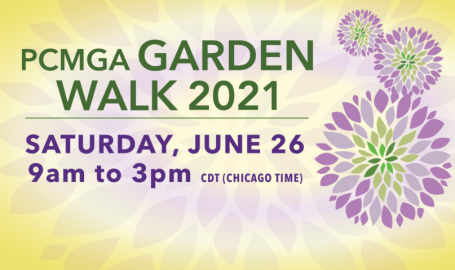 Because the Covid-19 pandemic has thrown us all a curve ball, we've made some changes to the Walk this year. They're designed to keep us all safe while we once again enjoy the great outdoor adventure of exploring six of Porter County's best private gardens.
First, tickets are going digital. That means you can only purchase your ticket online at Eventbrite. While we haven't changed the base price of the ticket, the net price is $10 including the digital convenience fee.
Second, to spread out the visitors you'll be encountering at each garden, we're asking that you start your Walk at the garden of your choice.
Think of it as an adventure! Here's how it works:
Read the garden descriptions below.
Choose the one you want to visit first. That's your Starting Point.
Click on this link and purchase your ticket to start at that garden.
On Walk day, start your adventure at the address of that garden which will be printed on your ticket.
When you check in at your Starting Point, you'll receive descriptions of all the gardens on the Walk plus a map of their locations.
After that, you may visit any of the gardens in any order at any time between 9:00 a.m. and 3:00 p.m.
Third, your Walk ticket automatically enters your name in door-prize drawings at every garden. No more standing in line and filling out all those pesky little slips of paper!
More information listed on the website.