"Quilt Roundup" 16th Biennial Quilt Show
October 26, 2019 - October 28, 2019
889 S. Court Street
Crown Point, IN 46307

Recurrence:

Recurring daily

Phone:

(219) 227-6607

Time:

10:00 AM to 4:00 PM

Price:

$6 adults, $1 children 6-12 years, under 6 years free
Website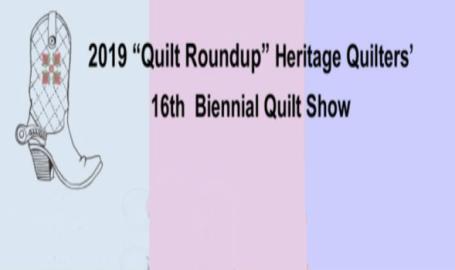 Cowgirls and cowboys of all ages! Join us for "Quilt Roundup", the 16th Biennial Quilt Show of the Heritage Quilters of Crown Point, Indiana. The corral, located in the Industrial Building of the Lake County Fairgrounds. Come on over to view 300+ quilts, including exhibits from our featured member artisan, Joan Shufran; featured guest artist, Mickey Depre; a Youth Exhibit featuring the Lake County 4-H youngsters; and others. We'll also be rustling up our One Block Wonder quilts, a Western Themed Challenge quilt exhibit, Comfort Quilts, Veterans Quilts, Block of the Month and a hootin' and hollern' Trunk Show of vintage to modern quilts.

It's a busy time gathering up all the quilts. One of our ranch hands taking the stage is our special guest lecturer Mickey Depre, a nationally known speaker, teacher and designer. Hear her lecture and trunk show entitled "Quilts-Young and Old, Timid and Bold" at 2 pm on Saturday. See more about Ms Depre at her website www.mdquilts.com.

Some of the Heritage ranch hands will also be speaking on topics like: "Heritage Block of the Month 2018-Our Civil War Journey"; "What Is Professional Long-Arm Quilting and Preparing a Quilt for the Quilter". Others are giving project or skill demonstrations.

We are thrilled to host "Public Show and Tell". Attendees are invited to bring along their favorite quilt and sign up for a 1-2 minute-on-stage show and tell for show attendees from 10:30-11:30 am each day. We invite you to hand quilt with us on a project loaded on a quilting frame and to a free quilt block exchange. Exchange extra or orphan blocks you no longer need for your at-home projects: Bring one, take one! Any size accepted.

We welcome the industry vendors who will be joining us for the weekend: Fox Farmhouse Quilting, Lowell; Joan's Flat Folds, Valparaiso; John Supan & Associates (machine repair/scissor sharpening), Crown Point; Quilters Glo, McCordsville; Rick's Woodcrafts, Lowell; Scrapyard Quilt Shop, Wanatah; Spyceware Sewing Center & Quilt Shop, Merrillville; Stitch 'N Time Fabrics, South Bend; Sweet Stitches Quilt Shop, Chesterton; and Deborah's Quilts, Lebannon, MO. Concessioners are Carol Ann's Candy, Crown Point; and a lunch style vendor to be determined.
New to the Heritage Show this year will be a Gift Boutique of finished handmade items, fabric or fiber related. The Boutique offers non-sewers an opportunity to purchase a beautiful quilt or a lovely bookmark. Offerings are perfect for upcoming holiday and hostess gift giving. And while you are here, get something for yourself as well. Cash and checks will be accepted for the Boutique.

Plenty of free door prizes will be given away as our gift to you. In addition, take your chances at winning a themed basket of wonderful content or bid on a silent auction item. The annual Heritage quilt raffle "Texas Braid" designed by Bonnie Hunter and sewn by our members can be viewed. Tickets are $1 each or 6 for $5. The winner of this fabulous quilt will be drawn October 29th. These fundraisers support the quilt show and the activities of the Guild until the next show in 2021! Don't forget to view our promotional sampling of quilts on display at the Crown Point Library on Main St. and the Merrillville Branch Library on US 30 in the month of October during library hours.