Race the Park Challenge: Oak Ridge Prairie
This event has already passed. Please check our calendar for more fun events in the region!
May 10, 2019
301 S. Colfax Street
Griffith, IN 46319

Website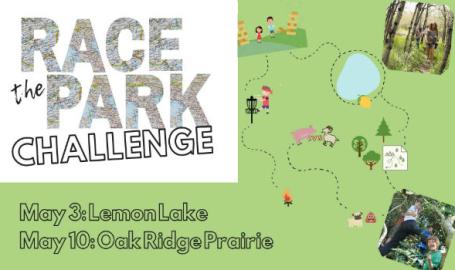 What is it? Race the Park Challenge (RTPC) is a new team competition just for middle school-aged kids. Groups of 4-6 kids currently in 6th, 7th, or 8th grade will compete in unique, team and mind building challenges around a park site. The first team to complete all their challenges will be the RTPC winners, but everyone will have a ton of fun along the way!

Who's it for? This event is specifically for Middle School aged kids currently in grades 6-8 (approximately ages 12-14).

What's it Cost? $10 per participant and each participant must be a part of a team of 4-6 people.

When is it? This event is for the Lemon Lake Challenge, which will take place on May 3rd from 5-8:30 PM. A second event will happen at Oak Ridge Prairie in Griffith the following week.

How do I sign up? Before signing up, interested participants need to form a team. Once your child/student has a team formed, call the Lake County Parks Main Business office at 219-769-7275 to sign up. Registration is open now! Gather your team and sign up today!

One more note on teams-- Teams can be a part of an already organized group (like a youth-group small group, or sports team, or extracurricular group) but do NOT have to be. Any group of 4-6 friends can create a team-- They don't have to be from the same school, in the same class, or anything like that. We just ask that everyone on the team falls into the middle school age range and that teams do not exceed 6 people.

For more information visit www.LakeCountyParks.com/RTPC
This event is made possible thanks to the support of the Legacy Foundation.